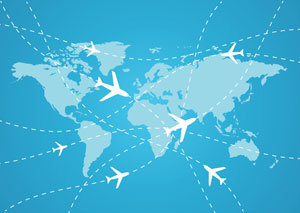 Experienced pet transport specialists to all countries from US. Pet-Express takes the stress out of relocating pets overseas.
Whether you are travelling from Hong Kong to Istanbul, Sydney to London, or Hawaii to Amsterdam, Pet-Express can help.
With a comprehensive network of specialists all over the world, Pet-Express can provide experienced handling and management services in most global locations.  A trained Pet-Express Pet Relocation Specialist will provide ongoing "project manage" of your important move, and work with airlines and locals at origin & destination to ensure that handling and care services are provided.
We have many furry clients that we have safely relocated to multiple international locations with their 'jet-setting" parents who relocate around the world for career or personal reasons.
Some destinations require months of planning and preparations, and as regulations are constantly changing, please contact a Pet Relocation Specialist to obtain early advice.