Dog Transport Services
Protocols for dog transport can be tricky to navigate. Language barriers, strict biosecurity controls, health certificate requirements and varying airline restrictions can be challenging – even for the most organized dog owner! Our Pet Travel Consultants are experienced in working with domestic and global partners to find a solution to transport your dog to anywhere in the world.
Get a pet travel quote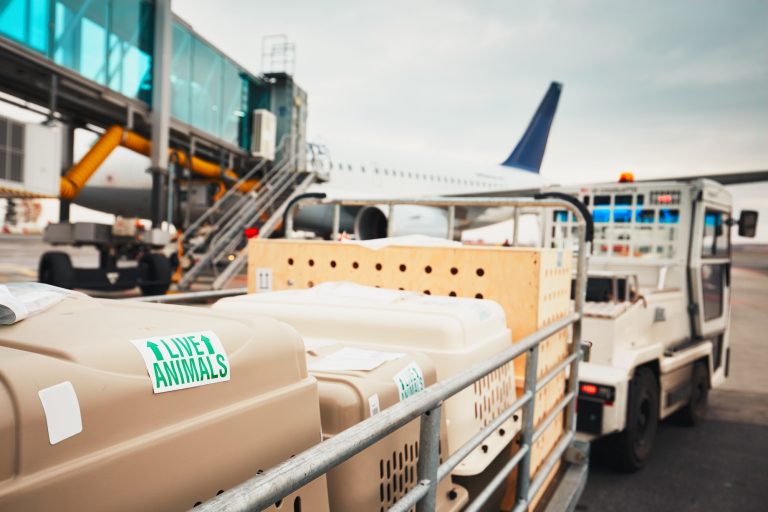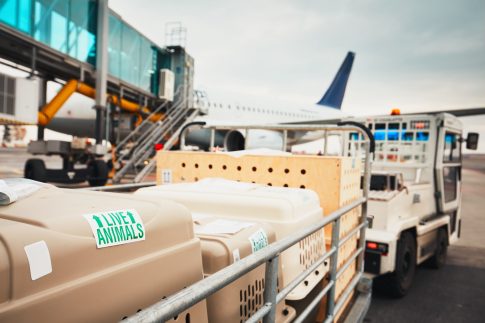 Here at Pet Express, we are proud of our commitment to offering professional dog air transport services. Whether you are setting sail for a brief holiday, an extended vacation or moving the whole family abroad — we can help dog owners to make sure no family member is left behind. We are pioneers in dog relocation, ensuring every dog experiences a stress-free and safe journey to their new home. We understand that dog owners worry about dog transport services and the impact on their beloved pets; that's why we have elevated the dog transport service to take care of all the arrangements and provide your furry family member with the utmost care and respect.
If you are looking for the ultimate peace of mind when it comes to keeping your dog safe, partner with us and experience the best dog transportation service on the market. Want to hear more about what separates our dog transport services from the rest? Stay with us, and we will dive into all the ways our dog relocation services aim to care for your pupper whether you are seeking cross-country dog transport services or international relocation.
Why Choose Pet Express for Your Dog's Journey?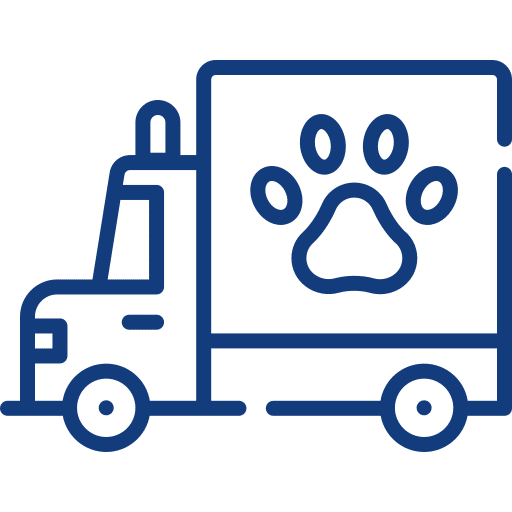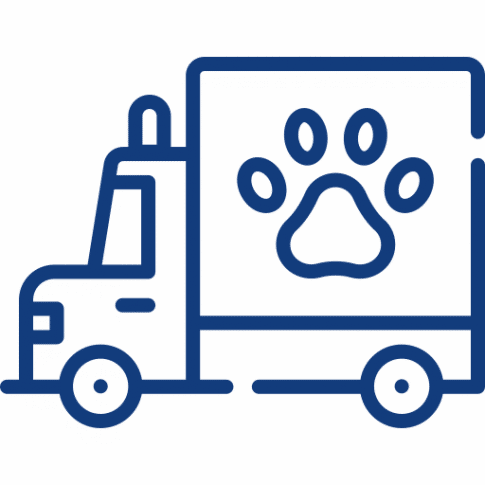 Air Transport and Ground Transportation Experts
We have been doing this for long enough to know that building relationships with teams we can trust is an essential aspect of providing reliable dog shipping services, time and time again. Our affiliation with air animal transport services makes sure that your dog gets the best pet-friendly flight experience. But our expertise continues beyond there; we also have impeccable climate-controlled vehicles for private transport once your dog touches down. This means we can provide dog owners with an all-inclusive experience for dog relocation.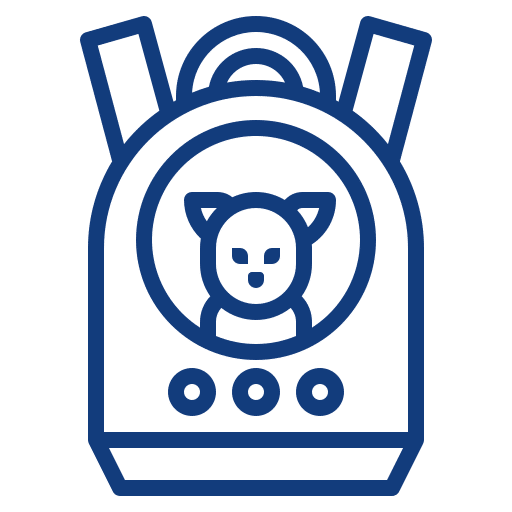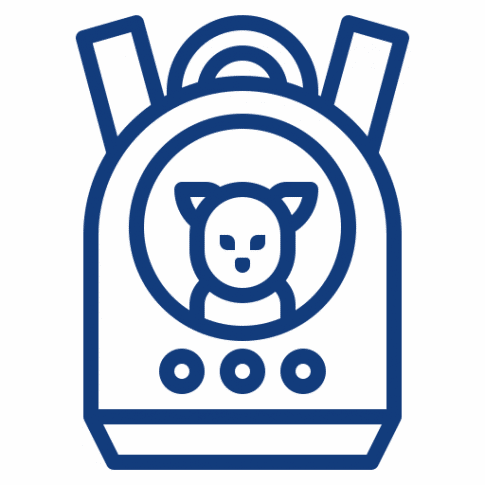 Pet Transport Masters
With Pet Express, your puppy isn't handed over to just any pet handler. Our team is carefully curated to ensure that only professional dog transporters will care for our jet-setting travelers. Our team has undergone careful training to ensure your dog's safety and comfort. The same highly sought-after assistance will be provided for national and international dog shipping services.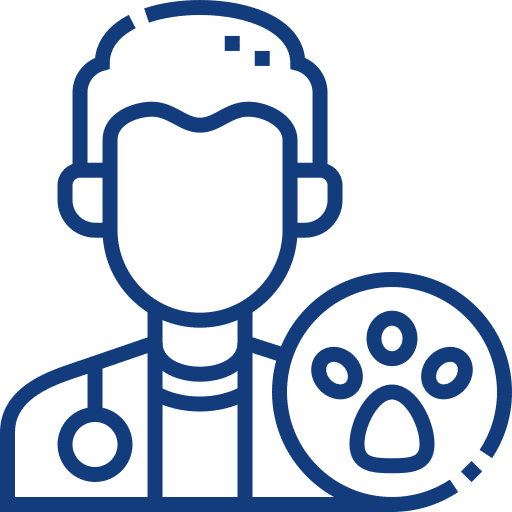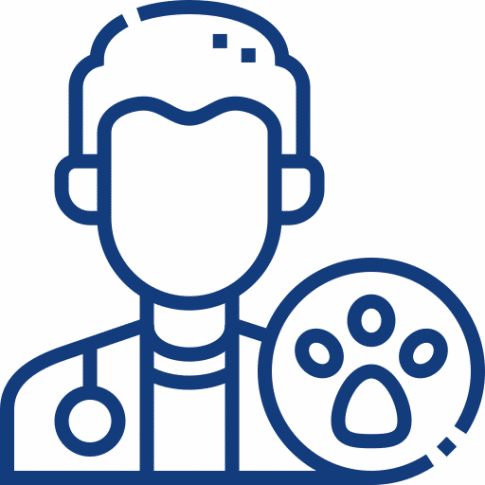 Veterinary Support
We make conscious efforts to ensure all veterinary care requirements are met, from regular check-ups to health certifications and any tailored treatments your dog may require to make pet travel more comfortable. With Pet Express, you can rest easy knowing your dog's health is being regularly monitored and catered to.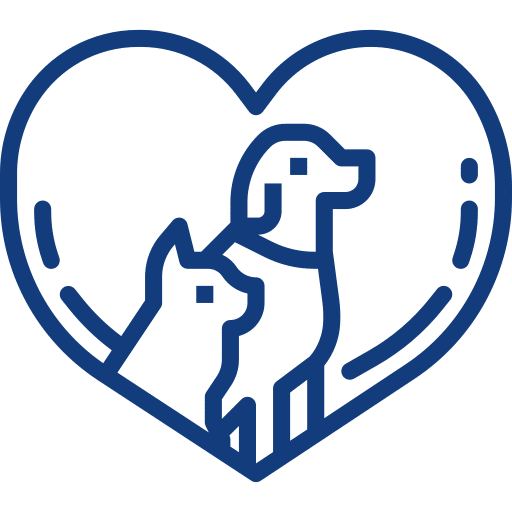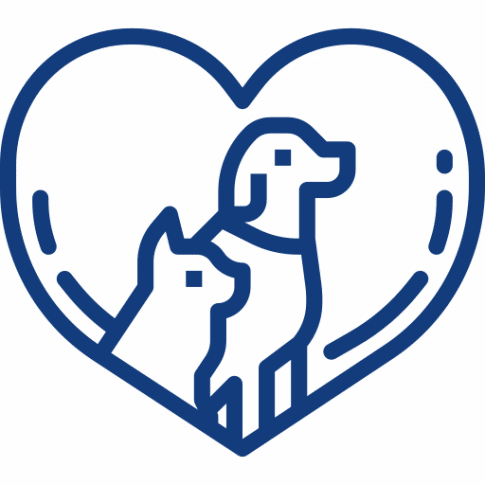 Dog-focused approach
Everything we do when it comes to our dog relocation services revolves around a dog-centric approach. Dog relocation can be a stressful time for pet owners and animals alike; that's why we do everything we can to ensure pet travel with Pet Express is safe and comfortable. Our expertise in dogs sets us apart, and we are constantly revising breed-specific requirements to ensure we provide a premium and safe service.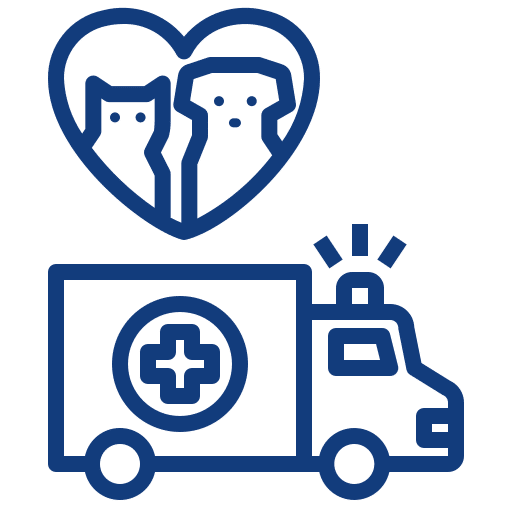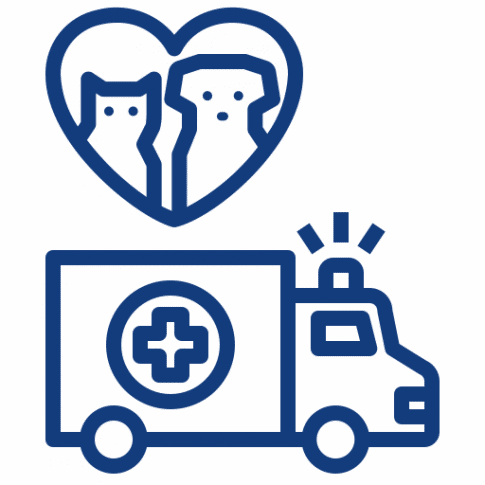 The whole package
Our dog transport services are all-inclusive, so you don't have to worry about any of the finer details regarding our dog shipping services. We cover everything from pickup to comfort stopovers to delivery to their final destination. Services like customs clearance, document compliance reviews, and quarantine arrangements are all part of the package if required for your dog's travel.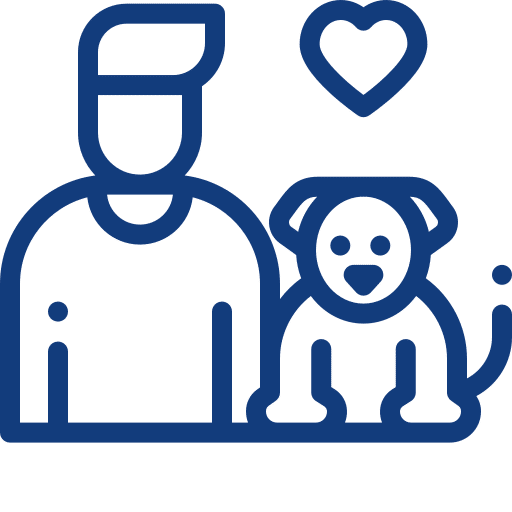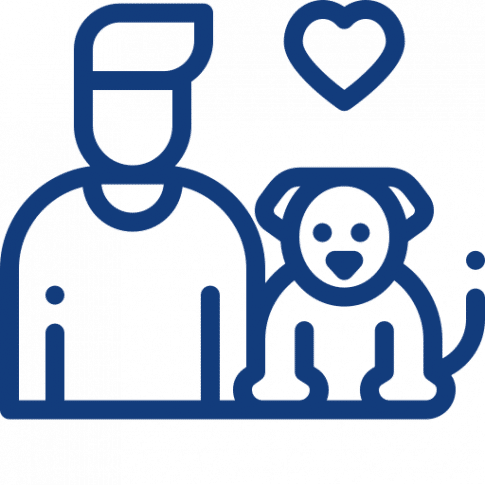 Stress-Free Promise
By blending all the above components for our state-of-the-art dog air transport services, we are able to provide our customers with a hassle-free experience. We ensure a seamless transition so you can reunite with your dog quickly. If you have any questions or concerns throughout our journey together, our customer service team can chat with you and ensure you always feel in the loop.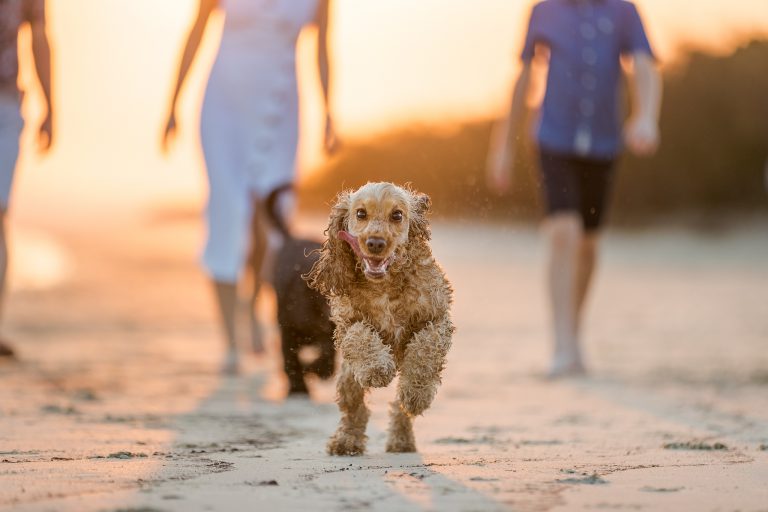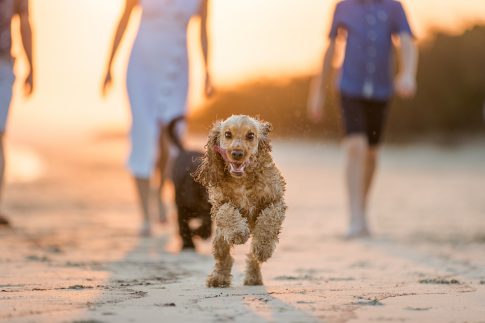 Any dog, anywhere in the world!
Do you require dog transportation services so your puppy can sip on a puppuccino in Europe? Take a stroll on the sandy beaches of Australia? Or to see their first snowfall in Canada? When it comes to our offered dog transport services, when there's a will, there's a way. We have most of the world covered with our professional dog transportation service. However, organizing dog travel can take a little more paperwork than a spontaneous getaway. That's where we come in, offering unparalleled dog air transport services that cover everything.
International dog shipping comes with its own set of challenges. All international destinations (and Hawaii) have very strict rules surrounding the entry of dogs. In most cases, travel preparations, including veterinary treatments or obtaining permits, may need to start months before departure. With adequate preparation time, quarantine in some destinations can be completely eliminated or significantly reduced. 
Whether you are traveling from the USA, back to the USA or between any other countries, Pet Express can make your move easier for you and your dogs. With a huge network of expert partners throughout the USA and overseas, Pet Express can care for your furry kids anywhere in the world. Your peace of mind is paramount to us, and we help you to achieve that by offering comprehensive dog shipping services tailored to your beloved canine companions.
We provide customized dog transport services
With Pet Express, we understand that each dog's journey is unique. So, our dog transport experts are always ready to structure a travel program tailored to the specific requirements of your furry friend. Please speak to our team about your specific needs and how we can best support you. Whether you are looking to transport multiple pets, need additional arrangements for an extended vacation or have specific questions about the cargo space during the flight. Whatever your queries or concerns, we have an answer.
Advice and "move coordination"
Pickup from nearby origin
Dog Travel Crate
Delivery to airport & airline check-in
Boarding & Kenneling
Delivery to their final destination
Permits
Customs clearance
Flights
Comfort Stopovers (if required)
Health Checks & Certificates
Veterinary advice & treatments
Collection from airport
Document compliance reviews
Quarantine (if required)
Peace of mind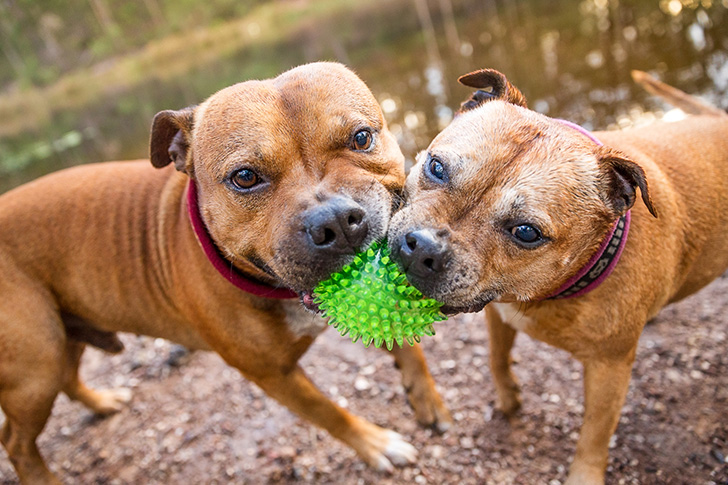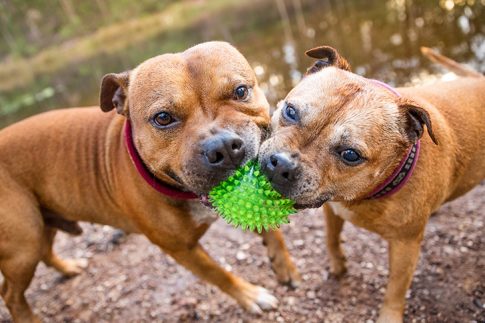 Be prepared
Advance preparation is not just a recommendation; it is essential when organizing dog air transport services. There's a lot to think about; with varying international dog shipping regulations, nuances with different destinations, breed-specific restrictions and requirements, health checks and certificates, on-ground transportation and, of course, last-minute hurdles, getting started early can make a world of difference for the comfort of your dog's journey. When planning a holiday or relocation, we know that you already have enough on your plate, leave all of the dog transport details to the experts and clear your schedule to focus on what matters — like your travel itinerary.
Speak to a Pet Travel Consultant to discuss your international dog transport needs, and together we can structure a customized dog travel program that will benefit you and your dog. We always ensure a collaborative approach that ensures your comfort and awareness about every aspect of your dog's journey. Let's get started on planning the next leg of your exciting journey and ensuring that no family member is left behind.
Get a pet travel quote