How much does it cost to ship a dog?
The costs involved in shipping a dog
Thinking about moving overseas? Perhaps you are relocating for work or you simply want a change of scenery. Before you can even think about relaxing on Australia's beautiful beaches or exploring England's historic towns, there is a lot of organizing and planning to do.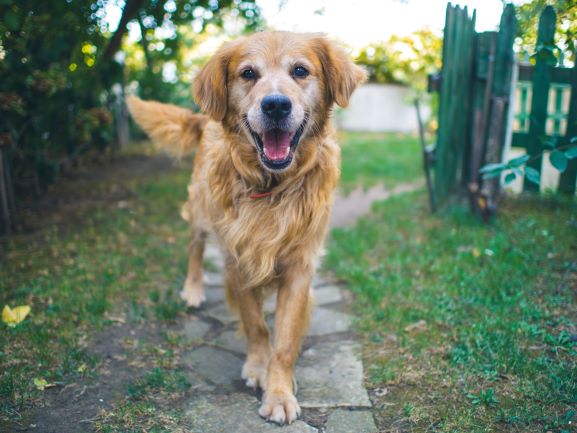 It becomes even more complicated if you have a furry friend or two that you need to bring with you. There are many moving pieces and different costs involved when it comes to flying a dog internationally. Whilst it is difficult to generalize anything regarding pet travel, we hope this cost breakdown can provide you with a bit of insight into the type of things you may have to consider when moving overseas with dogs.
Please note that this is not meant to be exact pricing as each destination and your own unique travel circumstances and needs will be very different.
If you would like a customized travel itinerary and quotation you can contact one of our pet travel consultants.
Travel Crates
Whether your dog is flying in-cabin with you or in the cargo hold you will need to purchase a travel crate. The travel crate must meet certain airline, industry and government regulations and it is important to note that many travel crates available online do not meet these ever-changing regulations.
We have a handy Crate Calculator you can use to see exactly what size crate you will need. Essentially, your dog must be able to turn around and be able to stand without their ears touching the top of the crate.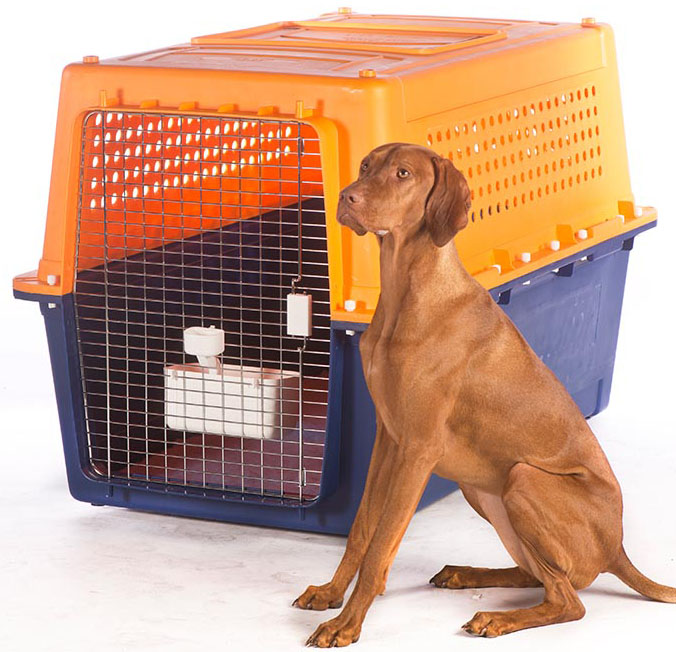 Always consult an expert before purchasing a crate online, as your dog may be denied travel if you show up to the airport with a non-approved travel crate (even if it is the right size).
Pet Express Travel Crates
The travel crates we supply are all approved by the airlines and IATA. We can also send you the crate as early as possible so that you can start getting your dog used to their travel crate. This will make the journey far more comfortable for them and will ease some of your stress as well!
We also have some second-hand crates that, if they are the right fit for your dog, we can provide to you at a discounted rate.
Example cost:
The price of a PP90 travel crate, which would fit a larger dog such as a Golden Retriever or Doberman, is approximately $575 USD.
Transportation
International Flights
The international flight will end up being a large portion of the overall costs. This is because airlines charge additional fees for live animals due to the extra care and attention they must place on handling and looking after the pets. Tickets can be even more expensive than your own passenger tickets.
The cost of the flight will depend largely on your dog's crate size. The cost of the flight can also depend on the destination as some countries will have less incoming flight options than others.
IMPORTANT: Please note that some airlines will not allow you to book flights directly with them and will require you to book through an IPATA certified Pet Transport Company. This is because the airlines understand how complicated the process is. Small mistakes in paperwork or veterinary procedures can cost passengers large sums of money and delays for months.
Example cost:
A direct flight from LA to Melbourne can cost between $1,200 – $1,600 USD (dependant on the size of the crate).
Other Transportation
Depending on where you are currently located in the US, you may need to transport your dog to a city where the international flight will depart from. You may need to arrange a domestic flight within the US or if your dog is a snub-nosed breed, ground transportation will be the only option. If you need to transport your dog on the road you will need a temperature-controlled vehicle with plenty of space to secure a travel crate in.
It is also important to keep in mind that most airlines will have embargoes on domestic flights during certain times of the year when they deem it too hot or too cold for your pet to fly. In summer sometimes the only option is to fly your dog early in the morning or very late at night due to the heat.
Example Cost:
a domestic flight in the US for a medium-sized dog to travel in cargo can cost between $500 USD – $1,000 USD.
Boarding & Comfort Stop Fees
Your pets' travel plans may not exactly align with yours and sometimes it is necessary for your dog to travel on separate flights and even board overnight at a pet transit lounge.
If your dog's flight has a layover it may be necessary to organize a comfort stop between flights. A comfort stop allows your pet to get out of the travel crate, stretch their legs, have a toilet break and be given some love and attention before the next leg of the journey. These comfort stops can be organized by the airline or you can utilize the services of a Pet Shipper in the local area.
Boarding at Pet Express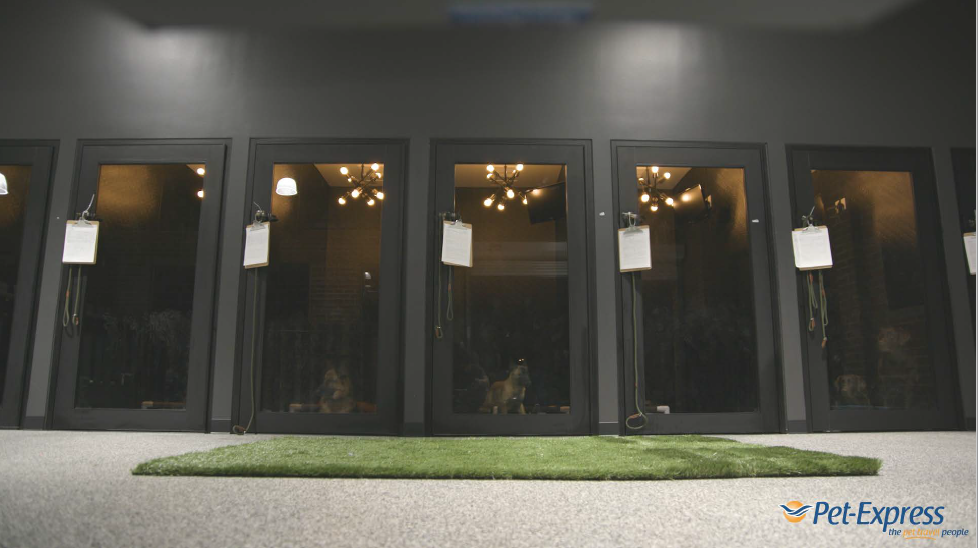 When you arrange to travel with Pet Express, we provide your dog with a complimentary night of boarding the evening before the international flight. We have pet transit lounges in both Los Angeles and San Francisco. We will also provide you with daily pet updates and photos whilst your furbaby is in our care.
Example cost:
Airlines can charge up to $500 USD for a comfort stop depending on how long the layover is.
Veterinary visits
Depending on the destination your dog may need to have up to four or five veterinary visits to ensure their health meets the import requirements. The types of veterinary treatments that may be required include rabies vaccinations, blood tests, health certificates, and general health check-ups. For international trips, there is the added requirement of the vet needing to be USDA accredited (i.e. government approved).
It is important to note that the timing of these vet visits to your departure date is critical and again, each country will have its own set of regulations around this. This is the most difficult part of organizing pet travel and requires knowledge of both veterinary procedures and different country's import regulations.
If you plan your travel with Pet Express, we put together a customized vet schedule for your dog which lists the exact treatments that will be needed to be completed on specific dates. We will also get in contact with your vet to ensure all procedures and paperwork is compliant so that your dog is able to fly as planned.
Example cost:
Costs can vary greatly depending on your vet. For example, a general health exam for your dog can cost between $70 USD – $250 USD.
Government Fees
Whilst each country has different regulations, most destinations will incur the following government-imposed expenses.
Import Permit
Some countries require your pet to have obtained a pre-approved Import Permit before arrival. These permits can be quite costly, and applications can usually be lodged online.
Example cost:
For example, for arrival in Australia, you will need to apply for an Import Permit from the Department of Agriculture and Water Resources. This will set you back about $480 for the first pet and $240 for each additional pet.
Quarantine
Some countries, such as Australia and Malaysia, require pets to be placed into quarantine upon arrival for varying lengths of stay. The quarantine will need to be booked ahead of time and can also be very costly.
Example cost:
For example, pets will be required to board at the Quarantine facility in Melbourne upon arrival into Australia for a minimum 10-day period. Fees are outlined on the Department of Agriculture website and will vary, however, you can expect to pay approximately $2,000 for one dog. There can be additional fees if your pet requires veterinary treatments or an extended stay.
USDA Endorsements
Prior to departure from the US, certain documents will need to be endorsed by the USDA. You will need to make an appointment and either take the paperwork to a USDA office or mail the paperwork in.
Example cost:
Fees for USDA endorsements can be found on their website and can range from $38 USD to $173 USD. This does not include the costs of attending the appointment, of filing or of mailing in the application.
It is also important to note that the USDA endorsement can only be completed the day before the flight, so if you are completing this step yourself you will need to pay additional fees for priority posting to wherever your pet is flying out of as they will need this paperwork attached to their crate to board their flight.
Clearing customs
Upon arrival into the country, your pet will need to clear customs, just as you would if you were arriving at an international airport. The various charges for clearing customs can include brokers, taxes and tariffs fees. Most countries will also give your pets a veterinary exam upon arrival.
Example costs:
For example, upon arrival in the UK, the expected entry fee should be a minimum of £450 which includes the ARC and VAT fees if entering England.
PLEASE NOTE: The above-mentioned fees are always subject to change and do not include the costs of applying for the permits, lodging the applications and other administrative fees.
Using a Pet Shipping Company, vs. doing it on your own
Call us biased but we cannot recommend highly enough going through an IPATA certified Pet Shipping company. You may not have a choice in some cases as many airlines and even veterinary practices will not allow you to book their services without going through an agent.
However, if you do decide to tackle it on your own, I would recommend doing thorough research on the government import regulations of your destination country, relevant airline and industry regulations as well as the necessary veterinary requirements.
Don't just take our word for it – here is what some of our customers have had to say about our services: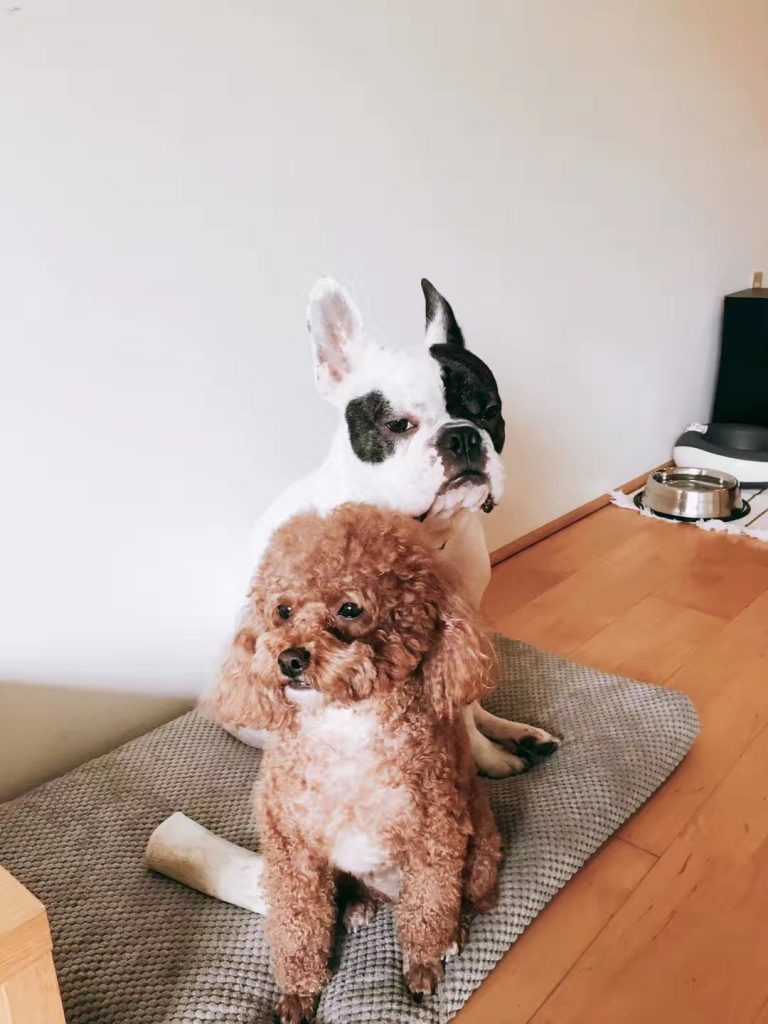 "We had an inexperienced vet, if not for Pet-express's help our dogs would be at risk of denied entry. A situation like this really highlighted the importance of having a responsible relocation agent at your back" Bucky & Lucca
"I called multiple pet transport agents and Pet Express was the only one that had a person answer the phone and someone get back to me with answers to any questions I had. Highly, highly recommend!" Minerva
"Pet Express went above and beyond to help us. The crate we provided was the wrong size, but this company worked around the clock to get our dog a different crate and a different flight. Only company I would want to use in the future."
"They've been great at dealing with local partners at each stop as well as coordinating any vet paperwork involving overlapping international laws" Scrubs
Read more of our happy customer stories here.
Pet Travel FAQ's
Read common questions about Travelling with pets here.
Have more questions?
Contact one of our expert Pet Travel Consultants for a customized travel itinerary and quote.
Get a pet travel quote