What Does the Cargo Hold for Pets Look Like? – An In-Depth Look into Pet Air Transport
When preparing to relocate with your furry family members, you'll probably have a bunch of questions. If you're like most pet owners looking into the logistics of getting their cat, dog, or other pet on a flight, you'll probably wonder, "What does the cargo hold for pets look like?", "How do dogs travel on planes?", "How do cats go on planes", "Where do pets go on planes", or similar.
If you have a lot of questions along these lines, you're not alone. These are all common concerns for pet parents who are contemplating transporting a beloved pet by air.
Let's face it, for most pet owners, the prospect of pet flights can evoke negative emotions, ranging from concern, uncertainty or stress, right through to downright anxiety.
At Pet Express, we understand your concerns and are here to help answer your questions and reassure you about the process of pets on planes. We're international pet relocation specialists, and are experienced in helping to organise and coordinate pet travel, via various methods, including pet flights.
In this guide to pet travel, we'll cover off on some of the biggest questions pet owners have around pets flying; what the cargo hold for pets looks like, and how it all works.
First, let's start with the basics.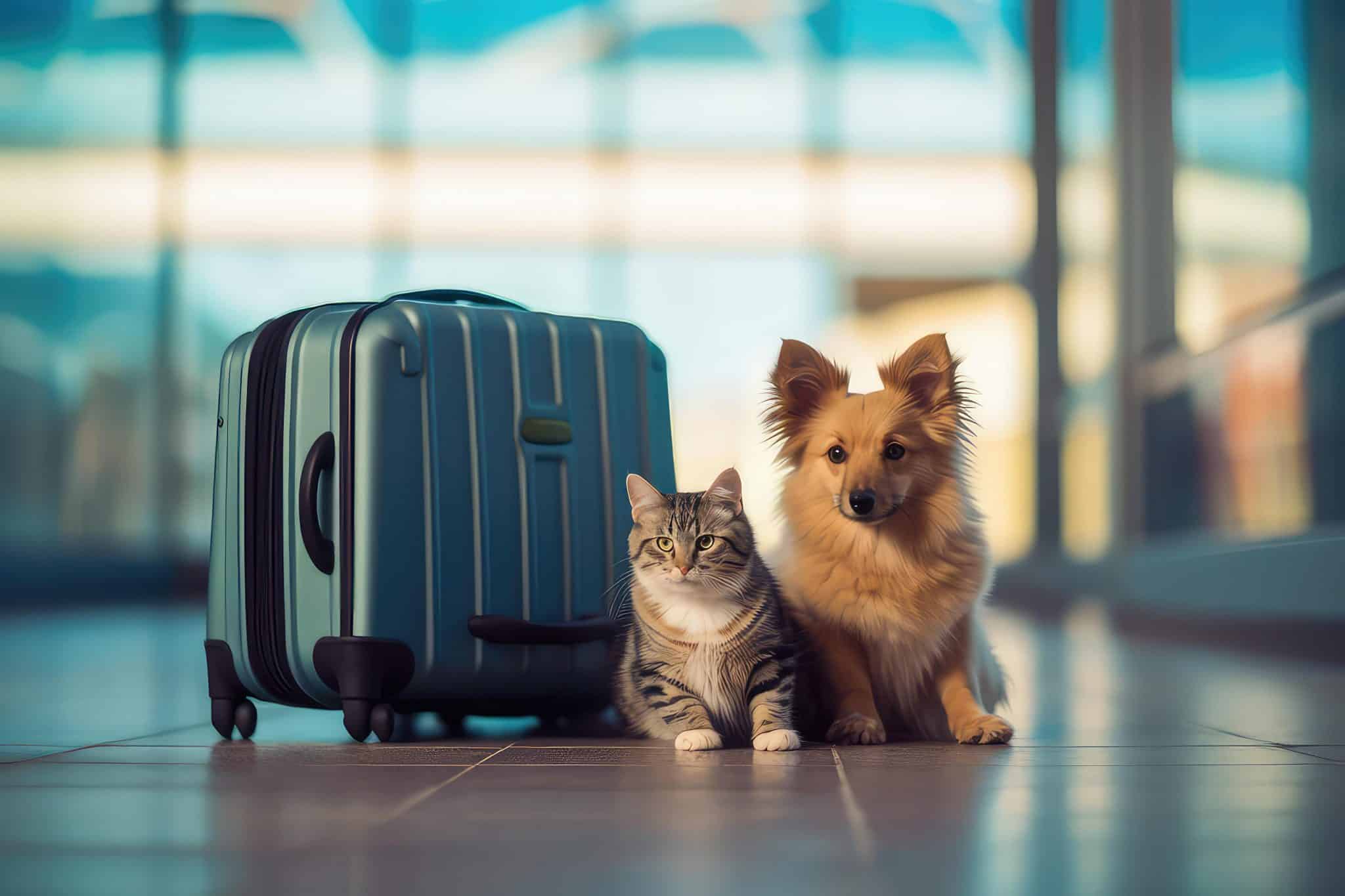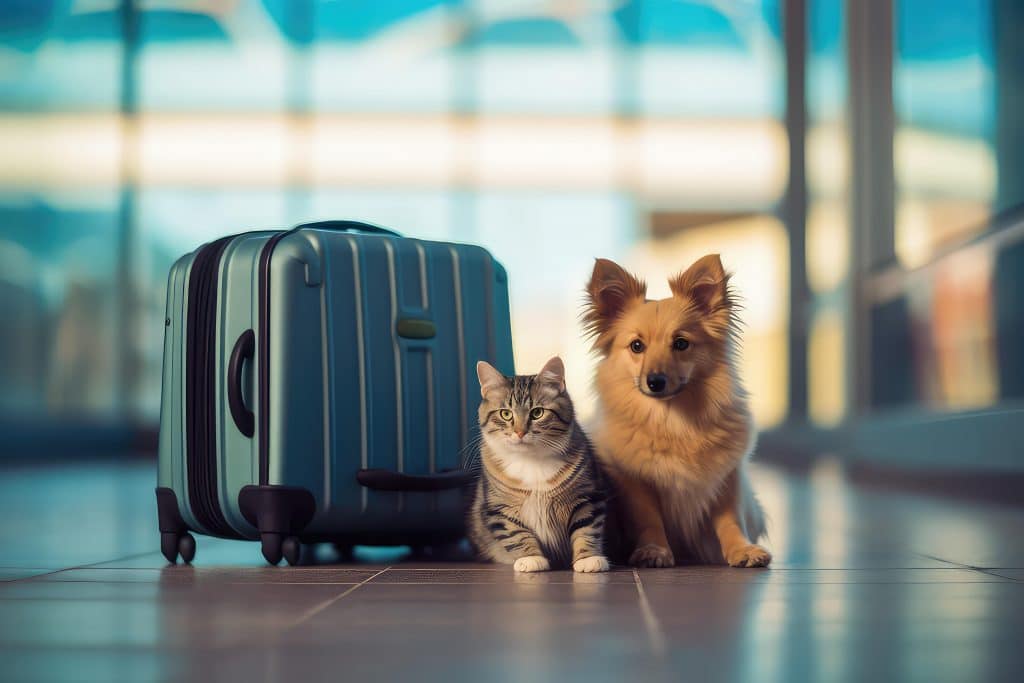 Understanding the cargo hold for pets
When pets travel on planes, they are typically placed in the cargo hold, a special area within the aircraft designed to accommodate animals safely.
When you hear 'cargo hold' you probably think of luggage; but in reality, this isn't just a luggage storage area. It's a pressure and temperature-controlled, comfortable environment for dogs on planes, cats on planes, and any other pets traveling by air.
The cargo hold is actually a designated, secure area in an aircraft which is specially designed for transporting pets by air.
Contrary to common misconceptions, it isn't a cramped, dark, and noisy luggage area that pets traveling are placed into as an afterthought, but is carefully designed for the purpose of pet travel, as well.
Do service dogs travel in the cargo hold?
Depending on the destination, service dogs are usually allowed to travel in the cabin with their owners, on the same flight, provided they have the necessary documentation and meet the airline's requirements. Most airlines that are pet friendly airlines will allow this for service dogs.
Service dogs are trained to handle the air travel environment calmly, ensuring the safety and comfort of both the dog and fellow passengers. Some service dogs provide an important alert system for early warnings on their human's health and wellbeing, and so most airlines will allow them to ride in the cabin with the person they are supporting.
It's always a good idea to do your research beforehand. If you'd like help organising the transport of your support dog, get in touch with our friendly team at Pet Express today.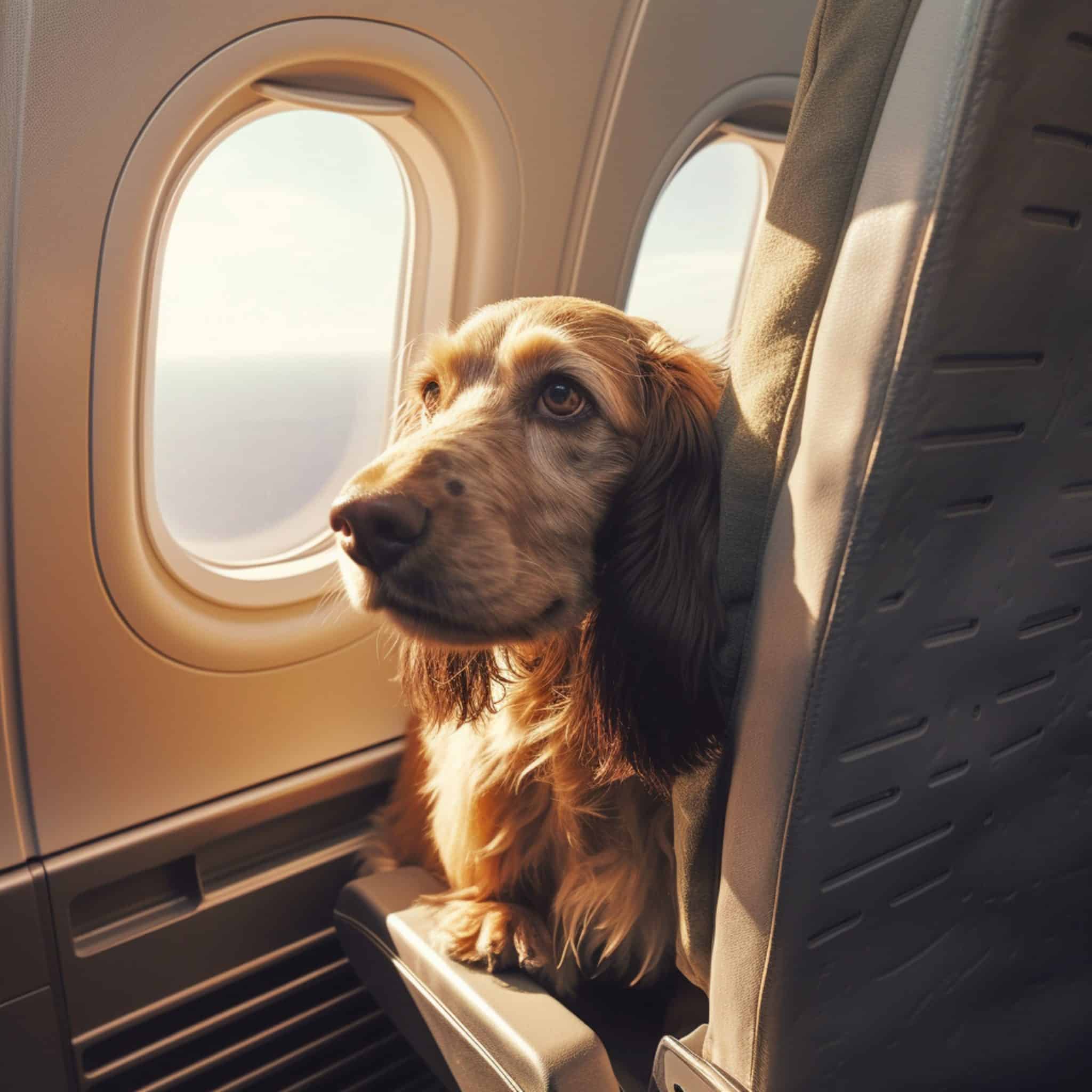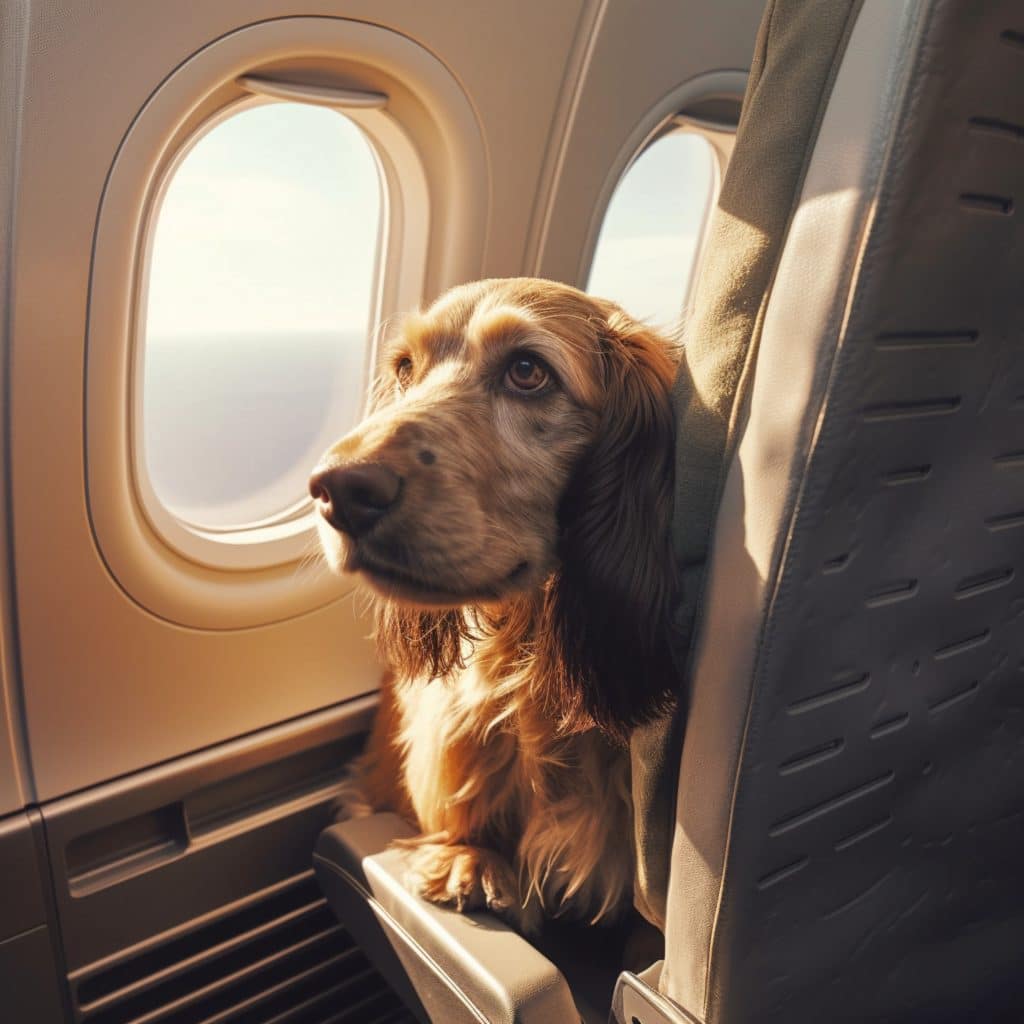 Pet safety and comfort: the top priorities of pet travel
The primary concern when it comes to pets on planes is their well-being.
The cargo hold is well-lit, temperature and climate controlled, and pressurized to ensure the well-being of the pets during the flight.
The pets flying are securely housed in their travel crates, and experience similar conditions to those in the passenger cabin, mitigating the stress and discomfort often associated with air travel.
The cargo holds are kept at a comfortable temperature that's also similar to the cabin where passengers sit, and are well-ventilated.
The pet crates help to ensure that your pets are safe throughout the entirety of the flight, and these pet crates prevent any movement during takeoff, landing, or turbulence. In short, while you may feel bad putting your pet in a travel crate or pet carrier, they do keep your cat, dog, or other pet safer (and out of trouble) while they're in the air.
Safety measures for pet travel in the cargo hold
Airlines adhere to stringent safety protocols around pets on planes, to ensure the security and well-being of all the pets flying.
Part of these safety protocols include the rule that cats on planes, dogs on planes and other pets on planes are all in travel crates.
These travel crates are firmly secured by the air ground staff before take off, to prevent any movement during the flight.
The cargo hold is equipped with fire suppression systems and is monitored for temperature and pressure fluctuations, ensuring a stable environment throughout the journey.
Pet comfort measures for pet travel on flights
Pet comfort is taken very seriously by all pet friendly airlines (all airlines that allow pet travel).
Your pet comfort is ensured by the climate controlled features of the flight, where an ideal temperature is maintained and proper ventilation is ensured in the cargo hold.
The travel crates are designed to be spacious, allowing pets to stand, turn around, and lie down comfortably.
For both cats and dogs, familiar items like blankets are often placed inside the pet carrier to provide additional comfort and reduce anxiety.
How do dogs travel on planes? How do cats?The process from start to finish
When it comes to how dogs travel on planes logistically, or how cats travel on planes, it's quite a simple process.
After the pets are dropped off and checked in, they are held in a holding area to help calm them before the flight.
The pets are then taken to the aircraft in specialized vehicles and are the last to be loaded before takeoff and the first to be unloaded upon landing.
This minimizes the time they spend in the cargo hold when the aircraft is stationary.
If you're wondering "Where do pets go on planes", they are secured in the cargo hold, in their travel crates. But don't worry, pet cargo is precious cargo, and all pet friendly airlines have set processes to ensure the safety and comfort of your pet.
However, the airport processes aren't the only processes that happen before pets fly.
Transporting pets by air involves a series of steps, from veterinary checks to ensure that the pet is fit to fly, to managing the documentation required by different countries, if flying internationally.
Once the pets are deemed healthy, and all paperwork is in order, they are placed in their travel crates and are ready to be taken to the airport.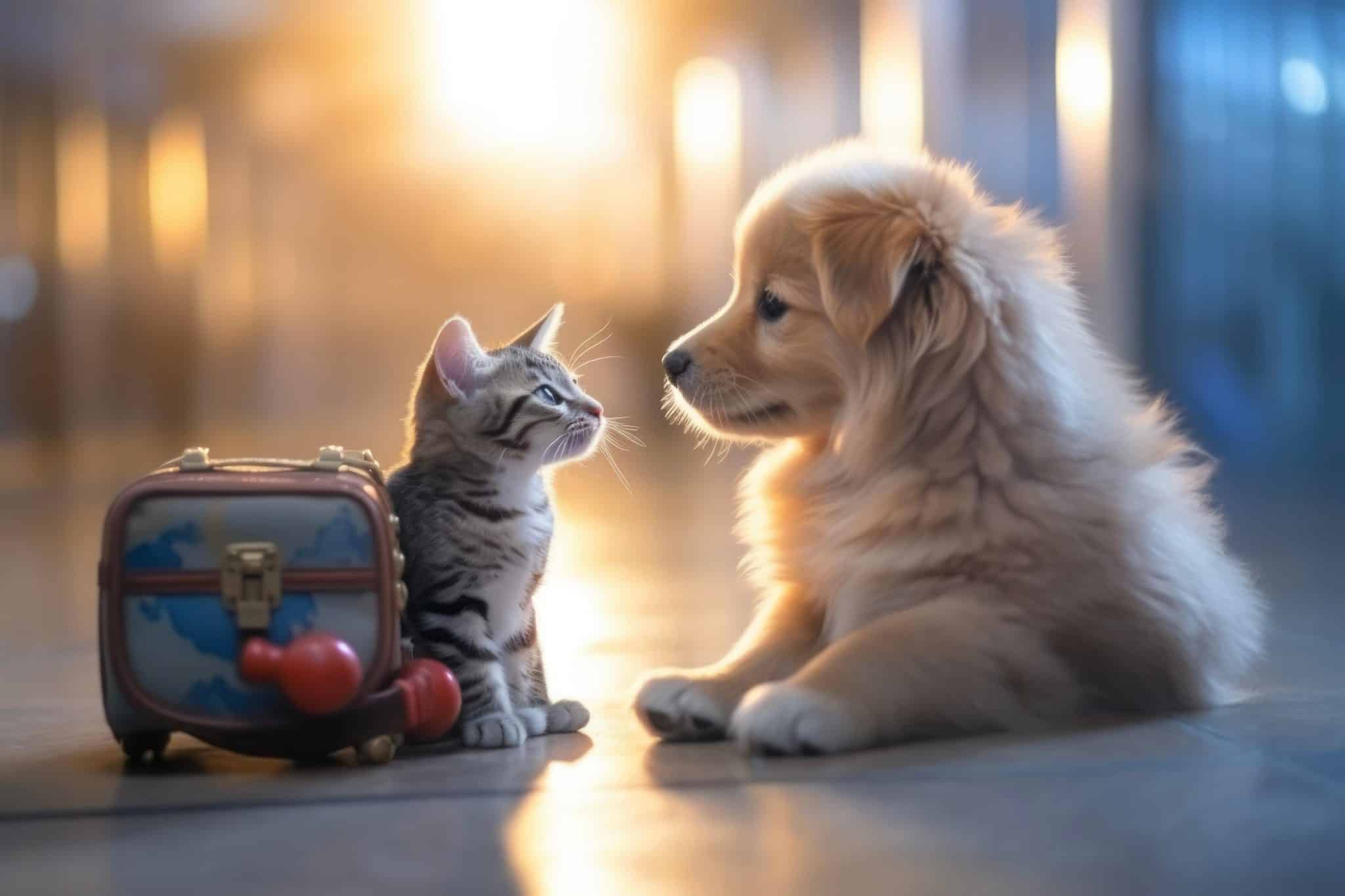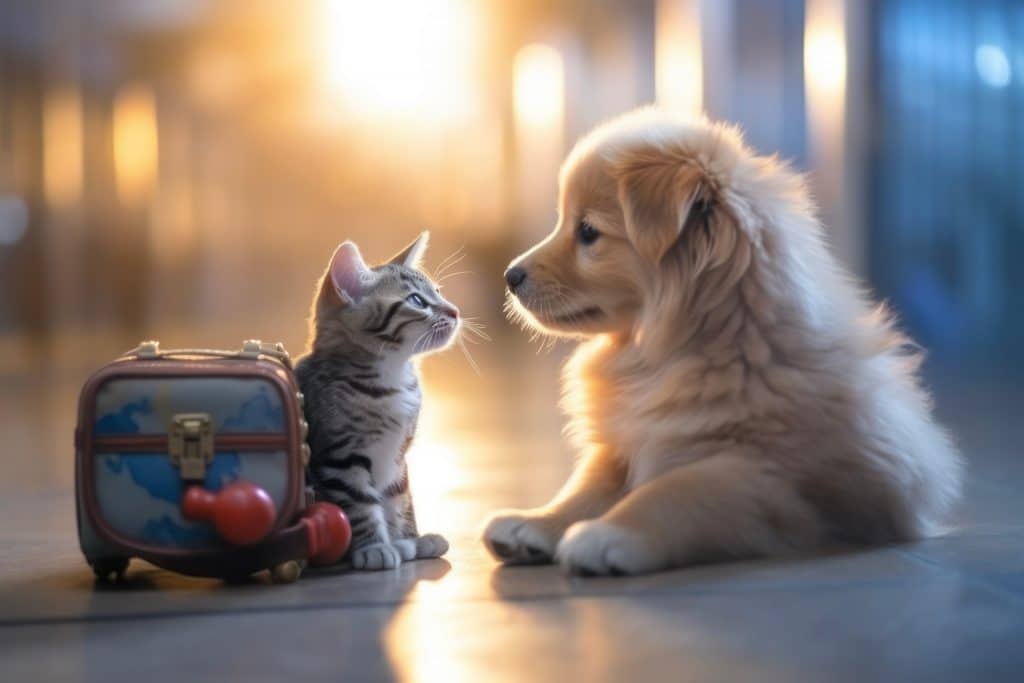 The role of Pet Express
At Pet Express, we're a family-owned international pet relocation specialist.
We stand out for our commitment to making pet air transport hassle-free and safe.
With extensive knowledge of international pet transport regulations and a caring and solutions-focused approach, our caring team at Pet Express ensures that both the pet and the owner experience a smooth and worry-free journey.
We're experienced in working with all airlines that offer pet travel, from Delta Air Lines and American Airlines to United Airlines, Alaska Airlines, Hawaiian Airlines, to Qantas Airlines and so many more.
We keep up to date with all of the conditions that the airlines require, and that different origin and destination locations require, whether it's international travel or domestic, a long flight or a short one.
We're here to reassure you, and support you, every step of the way.
From the preparation and planning, to booking your dog, cat or pet transport by air, to transport to the airport and more, we can take care of the whole process and make sure that your fur baby is well looked after.
Our process
Here's what our pet travel process looks like at Pet Express. As pet transport specialists, we've been arranging and managing safe dog, cat and pet transport internationally and domestically since 1978.
So you can trust that we have the systems in place and the experience to ensure that everything runs as smoothly as possible for you and your pet during the journey.
1. Pet itinerary
Our meticulous planning begins with providing a broken-down itinerary of your pet's travel and shipping information, ensuring transparency and peace of mind for you and your dog, cat, or pet.
2. Vet checks & certifications
Before the journey, your pets are assessed by our partner vets, verifying their fitness to fly. This step is crucial in confirming that your dog, cat, or other pets are healthy and ready for air travel.
3. Travel crate preparation
The travel crate is more than a container; it's your dog, cat or other pet's haven during transit. It is prepared to be secure, comfortable, and spacious, allowing pets to lie down, stand, and turn around easily.
4. The journey
From pickup to accommodation and transport to your destination, every detail is taken care of for your dog, cat or pet by our caring and knowledgeable team.
Pet owners looking to travel with your pet?
If you're planning to travel with your dog, cat, or pet and have any questions or stresses at all about the process, our friendly, experienced and caring team at Pet Express are here to help.
The more you understand the process of domestic flights and international flights for pets, the things the airlines require for your pet to travel, and what the cargo hold for pets looks like, the better you'll feel about your dog or cat traveling by air. We're here to help you understand all of those things.
In summary, the pet cargo hold is a secure, comfortable, and stable environment designed to ensure the safety and well-being of pets during air travel. With stringent safety measures, meticulous attention to detail, and a priority for the comfort of your dog or cat, air travel for your pet isn't as scary as it may seem.
At Pet Express, we are dedicated to offering pet transport services that make the entire process easier for you and your dog or cat (or other pet).
We believe in not just meeting but exceeding expectations, treating every pet and their family with respect, love, and utmost care.
We can take care of the entire process for you, and help put your mind at ease about traveling with your pet. Get in touch with our friendly team today.
Get a pet travel quote