Testimonials
See what our friends say about us on

Facebook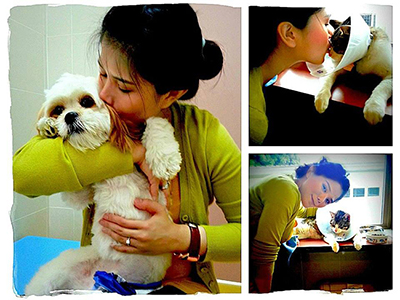 Pickles the DOG from Portland to Adelaide, Australia
Simone and everyone from Pet Express did such a great job getting my little girl from Portland Oregon to Adelaide Australia. I was stressed and anxious but they were there every step of the way and gave so much guidance what to do and when (there are like 20 steps!). I was given photos and updates and it really helped when I was stressed about being separated from her. She arrived yesterday and is loving the Australian sun. I highly recommend Pet Express and I can't imagine how I would have done it any other way. Thank you Pet Express! My baby is home and our new life can begin!
Ducky the DOG from New York to Auckland, New Zealand
I recently moved my dog Ducky from New York to New Zealand. It may seem dramatic, but this was one of the most difficult decisions I've ever had to make! I did HOURS of research, and reached out to someone in New York to handle the entire trip. She was unfamiliar with the rules and regulations with NZ (they are incredibly strict, but understandably so!) and ultimately put me in touch with Janice at Pet Express. I am in no way exaggerating when I say I had THE best possible experience due to Pet Express, and Janice in particular. They handled the LA to Auckland leg of his journey- organized the vet visits, flights, boarding and quarantine. I went through a rollercoaster ride of emotions during the entire process, asking an endless amount of questions, and Janice answered every single one of them promptly, clearly, and compassionately. I had never flown a pet, and I can't lie- it is very stressful to do so. I was pretty much a nervous wreck about it. There is a lot to be done, and it is a costly process, but peace of mind is priceless. I luckily came across a vet who had just recently shipped a dog from NY to NZ, so between that and working with Pet Express, my only job was to bring Ducky to the vet on the dates provided on the timeline I was given. And then comes the hard part- actually putting my dog on the plane. At the time, I was still in NY, my fiance was already in NZ, and I was sending Ducky to LA. My anxiety was at an all time high, so you can imagine the relief I felt when he landed. The care he received while he was at their facility exceeded my expectations. Hearing from the staff at Pet Express with frequent email updates, including pictures, connected all of us and made the situation of being apart, moving and transitioning to a new life that much easier. I can't thank Pet Express enough, specifically Janice and Mia. They were not only professional, but kind and understanding. A big thanks to Aaron, Alyson, Jerry and Ana for taking care of my incredibly nervous but sweet pup, and providing me with regular updates and photos throughout the day! It was really comforting to know he was in good hands. Ducky is currently living his best life in Auckland, New Zealand thanks to Pet Express! :)
Princeton the DOG from Los Angeles to Auckland, New Zealand
Through a mountain of paperwork, Pet Express was able to successfully transport my fur baby (with heart and spinal issues) safely and securely to New Zealand from California. They put up with my myriad of questions and worked together even with a couple of hiccups to get the job done. Special credit goes to Mia who went the extra mile to assist the agent in charge of Princeton to navigate changes to the requirements and special requests. Highly recommend their service!
Gomez the DOG from Los Angeles to New York, United States
My VET, Dr. McGrath in Los Angeles recommended Pet Express, as he had only heard good things. So happy he did. We had to ship our furry babies, TWO German Shepherds, from LA to NY for work, after selling our house, packing and moving, in the course of 20 days, while caring for a sick family member with cancer. No small feat! Scott and his team made it all super easy. My dogs arrived mellow, relaxed and quite happy. ( If you know German Shepherds, you know they can be extremely sensitive when stressed, but we simply didn't see any signs of stress on them whatsoever.) PET EXPRESS used a carrier that transports horses, dogs, cats all in a climate controlled, pressurized cabin. Not the horrible dark "cargo hold" I was imagining at all. My dogs were delivered to me clean and chill, tails wagging. I'm forever grateful. Highly recommend.
Carnoustie the DOG from Los Angeles to New York, United States
Although it took a while to set up the travel arrangements for my rough collie puppy, Carnoustie, to travel from Edinburgh, Scotland to Hillsborough, CA., his trip was excellent. He had to make a plane change, then 11 hours in the air to SF, then immigration and customs at the airport, then Pet Express office and then delivery right to my doorstep. Everything was in order, and he arrived at the time they said he would arrive. Tired, but in great shape, and ready to play with the neighbor's puppy. It was really fantastic that a puppy should travel so far with no traumatic aftereffects. M. Johnson