The Best Airline (IATA) Approved Pet Crates for Travel
The logistics of traveling post pandemic can be stressful as is, but throw a medium to large dog into the mix and it can become even more complicated. From making sure your furry friend is fully immunized to filling out all the essential paperwork, it can be difficult to make sure you have everything you need. Have no fear, Pet Express is here to take the hassle out of pet travel.
One thing you certainly don't want to overlook is a comfortable and reliable pet carrier. However, it is essential for your air travel crate to comply with the airline regulations. One of these regulations is that if your pet will be stowed in cargo, it must have a hard shell carrier. Not only do the pet travel crates need to be secure and durable, but the crate needs to be large enough for your pet to stand up, turn around, and comfortably lie down, which can be difficult to find for a bigger breed of dog.
If you're traveling for an extended period of time interstate, changing residence, or even setting out on a short weekend escape with your furry best friend, choosing a travel crate that has been designed with your larger-sized pet's comfort and safety in mind is important when on the road. We have compiled a list of the best travel crates for medium sized to large breed dogs from Pet Express that will make your pet happy while also complying with all airline requirements.
Finding out my airline pet policy
Most airlines that service the United States require both small and larger breeds of pets to travel in a hard shell crate. Although every airline has their own policy on traveling with pets, whether it's KLM Royal Dutch Airlines, American Airlines, British Airways, QANTAS, Lufthansa Airlines or another airline, Pet Express makes your move easier by arranging a customized pet travel program for you and your furry friend. In addition to being completely informed about your pets every move, we stay connected with you throughout the entire journey so every question you may have is answered promptly. To learn more about your international pet shipping needs and your airline pet policy, speak to one of our friendly Pet Travel Consultant's today.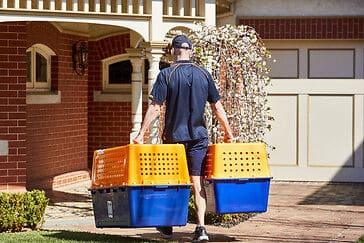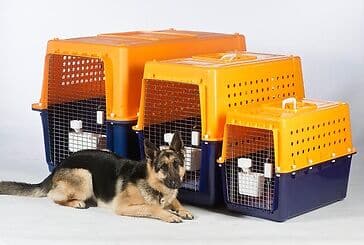 Features of the Pet Express travel crates:
Strongest pet crate on the market – with a heavy duty frame you can be certain that your pet will be safe and sound throughout the flight;
Dual spring locking system – properly secures the door to prevent any accidental openings;
Security bar and zip tie hole – adds extra reliability for safety and security of your pet;
Carry handle – ensures easy transportation of the travel crate;
Tight grid mesh – the half an inch to an inch grid mesh stops your pets paws from poking out of the crate;
Side handle – ensures easy transportation of the travel crate;
Easy lockdown screws – the metal bolts and nuts secures the carrier by just hand tightening. No need to keep tools handy; and
Complete ventilation system – the meshed wire door and the distributed openings on the side allows for abundant airflow for your pet.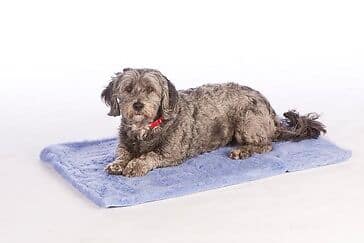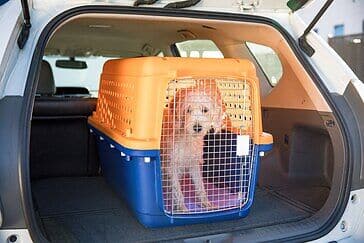 Accessories that come with every Pet Express travel crate:
The price of the crate includes a raised floor, funnel and water bowl.
Raised floor – pets are kept separated from any bodily waste that may have passed throughout the flight;
Funnel – airline employees can easily replenish the water bowl without ever opening the crate door;
Water bowl – designed with a spill resistant lip, securely hooks on to the metal wire carrier doors; and
A mat can also be purchased for an additional fee.
How do I know what size crate to buy for my pet?
Before you buy your pet's crate, you will need to determine the proper size that they will fit snugly in. Start out by measuring your pet's height when standing, from the top of the head to the floor. If your pet has ears that stay raised, you will need to measure from the top of their ears. Next, measure the length of your pet – starting from the tip of the nose to the base of the tail. Once you have those measurements, add 4 inches (so your pet can move about the crate with ease) for your pet's right crate size. You can even use this crate calculator to help you navigate the measurements and to quickly establish the correct crate size for your pet.
Best pet carrier for medium to large dogs
If you're wanting the perfect pet carrier for your medium to large dog to be placed in cargo, the Pet Express BB75 pet crate is the one to choose. The dimensions for this Pet Express pet crate is 32 inches high, spans 46 inches in length, and has a width of 26 inches. The BB75 travel crate leaves a generous amount of space for your furry friend to settle in and wriggle around for the duration of any domestic or international flight. 
Built to last, the BB75 dog crate is structured with hardened plastic, but is still lightweight with the crate weighing just 25 pounds. The plastic structure of the pet travel crate also makes it effortless to clean and disinfect.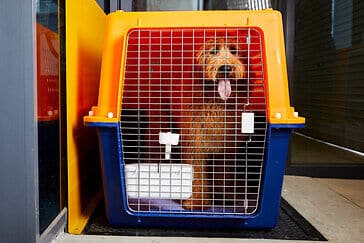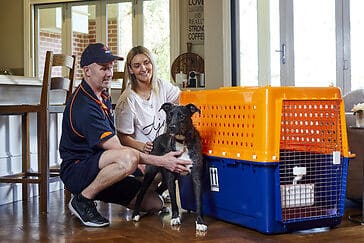 Medium to large dog breeds that will fit in the BB75 pet crate:
Malamute;
Akita;
Sheepdog;
Boerboel;
Newfoundland;
Rhodesian Ridgeback; and
Tosa.
Best dog crates for large dogs
The Pet Express PP90 pet crate is a great heavy duty travel crate option for larger breeds. The PP90 has a height of 33 inches, spans 52 inches in length, and has a width of 31 inches. These dimensions give ample space for your large dog to feel comfortable and cozy during their flight.
These dog crates were especially designed for aircrafts that have a narrow body and a lower cargo door height. As a result, it has given way to more opportunities for a variety of dog breeds to travel on aircrafts.
Dog breeds that will fit in the PP90 pet crate:
Golden Retrievers;
Labradors;
German Shepherds;
Rottweiler; and
Dobermans.
The PP90 pet crate is also a great choice as a dog crate for your large-sized dog for flights on airlines servicing the United States. The larger crates give your canine companion extra space to change positions easily and comfortably relax while traveling.
Best jumbo dog crates for extra large breeds
The Pet Express PP100 travel crate is famous for its durability and is suitable for both domestic and international travel. The PP100 has a height of 39 inches, spans 52 inches in length, and has a width of 31 inches. The jumbo sized crate is ideal for extra-large sized breeds of dogs that weigh up to about 165 pounds.
The PP100 dog crate is built to last with a hardened plastic structure that is also easy to carry with a handle on the top of the crate. As it is built for larger breeds it weighs approximately 55 pounds but is easy to clean and disinfect. Note: As this travel crate is made for larger dogs, you will need to make sure with your airline if this crate will fit through the cargo door. To do this, ask for the dimensions of their cargo door and check those measurements against this crate. This particular airline pet crate does not come with a raised floor to accommodate for the larger breeds.
Dog breeds that are most suited for the PP100 pet crate:
Bullmastiff;
Bernese Mountain Dog;
Great Dane;
Great Pyrenees;
Saint Bernard;
Greyhound;
Irish Wolfhound; and
Leonberger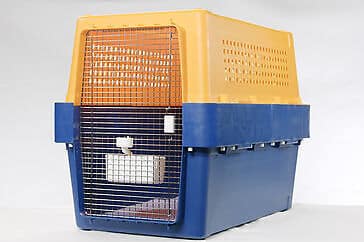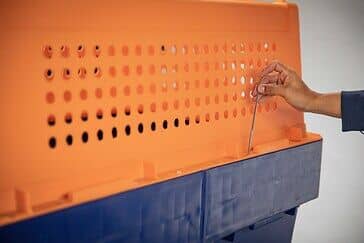 The next step in your pet crate journey
If your large dog is unfamiliar with a travel crate and has never been crate trained before, it is vital it feels safe in its new environment. Once your crate has been delivered, you will then need to prepare your pet to feel comfortable spending time in the space for long periods of time. Head on over to this blog article on how to train your pet to love their new crate, even if they suffer from separation anxiety.
Get a pet travel quote