The Ultimate Guide on Moving to Europe with a Pet
Are you contemplating a move to Europe? International travel takes on a different dimension when it's a relocation instead of a holiday. From finding somewhere to live in your new country to the shipping of your personal effects, there's a lot to do when moving internationally.
And if you have a dog or a cat, you also have to work out how to arrange pet travels.
Dedicated pet shipping companies like Pet-Express are experts in international pet shipping, particularly to European countries. Transport of pets to other countries is what they do best. The expert consultants can help take the stress out of moving to Europe with a dog or a cat, leaving you with more time to plan the rest of your move.
But as the pet owner, it's important you understand the must-dos of how to transport pets. So, here's a business class guide to what you need to know.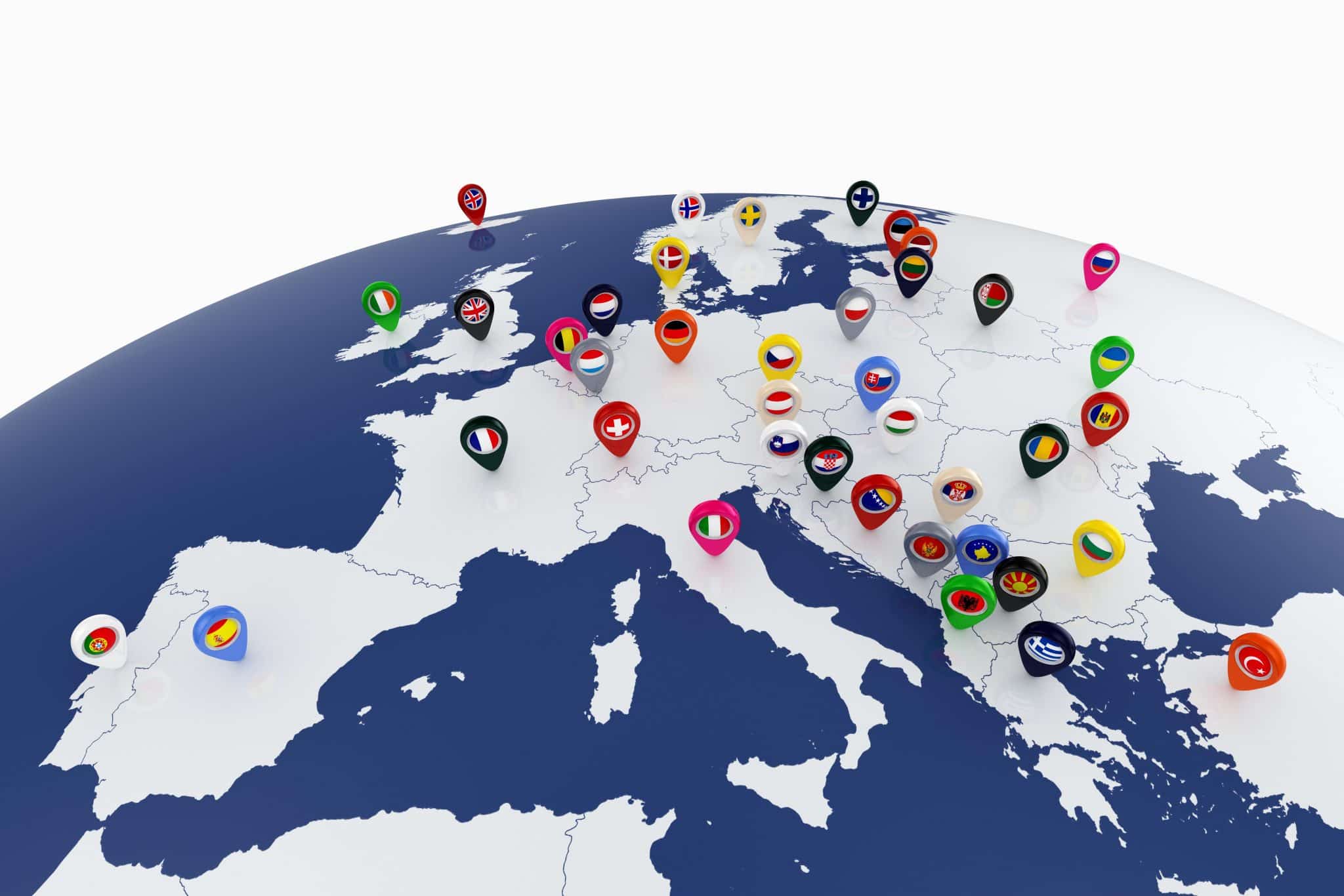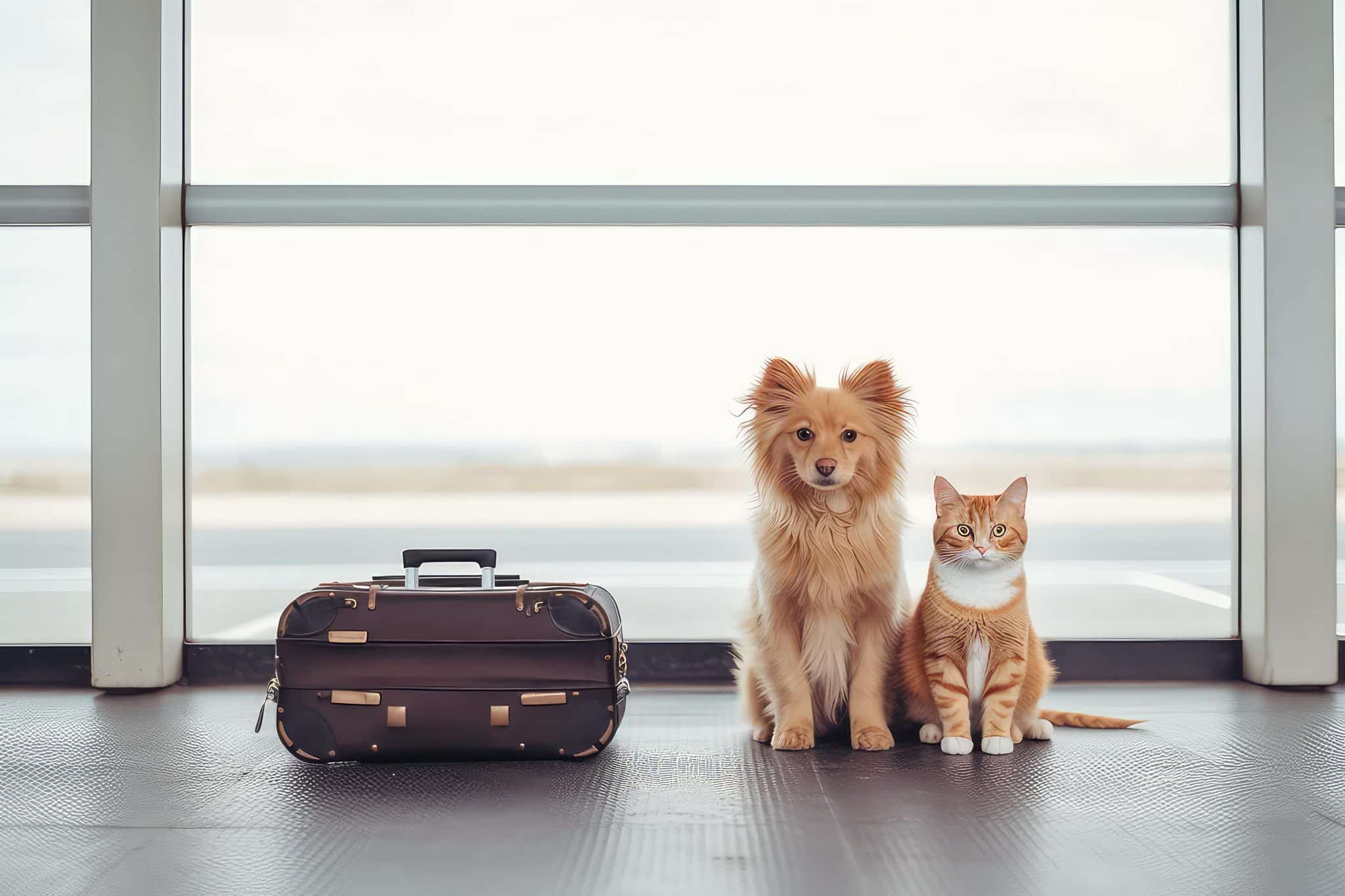 Planning the move
Concerned about moving to Europe with a dog? The good news is that, generally speaking, European countries are fairly dog-friendly. And did you know that cats are the most popular pets in continental Europe?
But even with this abundance of love for pets, there are rules when it comes to pet immigration.
Despite being dog-friendly, Europe's pet importation laws are strictly adhered to, and advanced preparation is a must.
Where are you moving to?
Knowing whether your destination country is in the European Union is the first step in planning pet travel to Europe.
We tend to think that the European Union and Europe are the same thing. So it's easy to forget that of the 50 countries that comprise Europe, only 27 are part of the EU. That means there's another 23 European countries that are not. That also means that rules and regulations are not all identical!
Below is a drop-down list of European Union countries. If one of these countries is your final destination, only one set of rules apply — and that makes things a whole lot easier.
EU Countries
Austria, Belgium, Bulgaria, Croatia, Cyprus, Czech Republic, Denmark, Estonia, Finland, France, Germany, Greece, Hungary, Ireland, Italy, Latvia, Lithuania, Luxembourg, Malta, Netherlands, Poland, Portugal, Romania, Slovakia, Slovenia, Spain, Sweden
Keep in mind that the list can change. Remember Brexit? Since the UK is no longer in the EU, this country now has its own pet entry rules. This highlights how fluid the landscape of pet travel to Europe can be.
An experienced pet shipping agency keeps current with these kinds of changes. This ensures your pet's relocation doesn't encounter any unexpected hurdles.
My new home won't be in the European Union
Fortunately, most countries that are not in the EU have similar fundamental requirements to the EU. We'll touch on this a bit further down.
Getting there
If traveling by air, your pet's travel crate must meet airline specifications and be IATA compliant.
Airline travel for your pet is safe and most airlines have a pet-friendly travel policy, particularly for international flights. Typically your pet will travel in the cargo hold of the aircraft.
Importantly your pet needs to get used to the crate prior to travel. Commence crate training early with the right crate and your pet will have a calm, comfortable trip.
Leaving the United States
When leaving home, we tend to focus on entry requirements of the destination and sometimes forget there are official pre-departure requirements that also need attention. We'll cover this in the next few sections.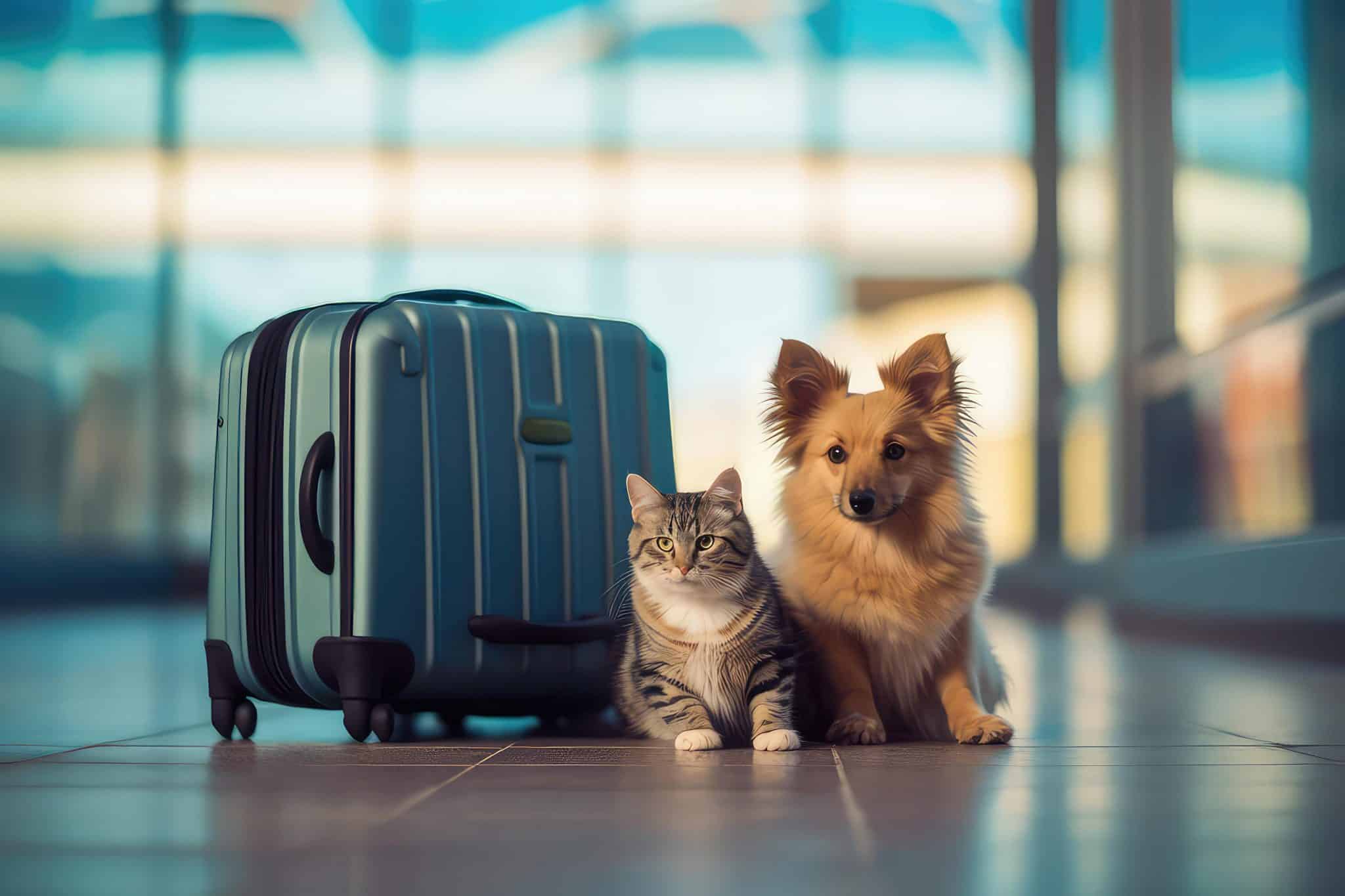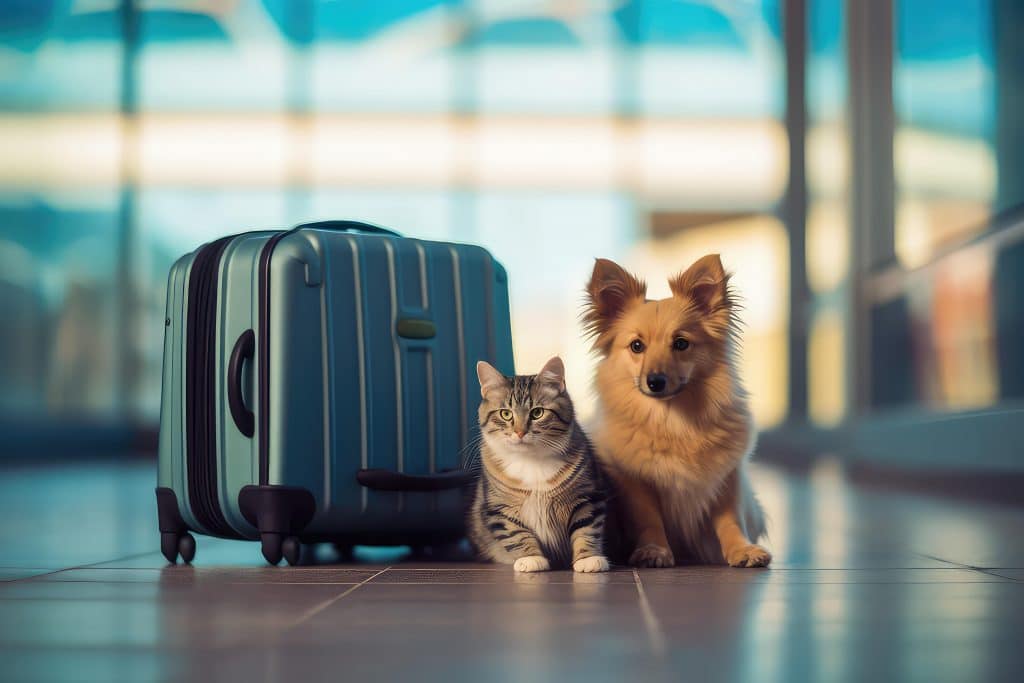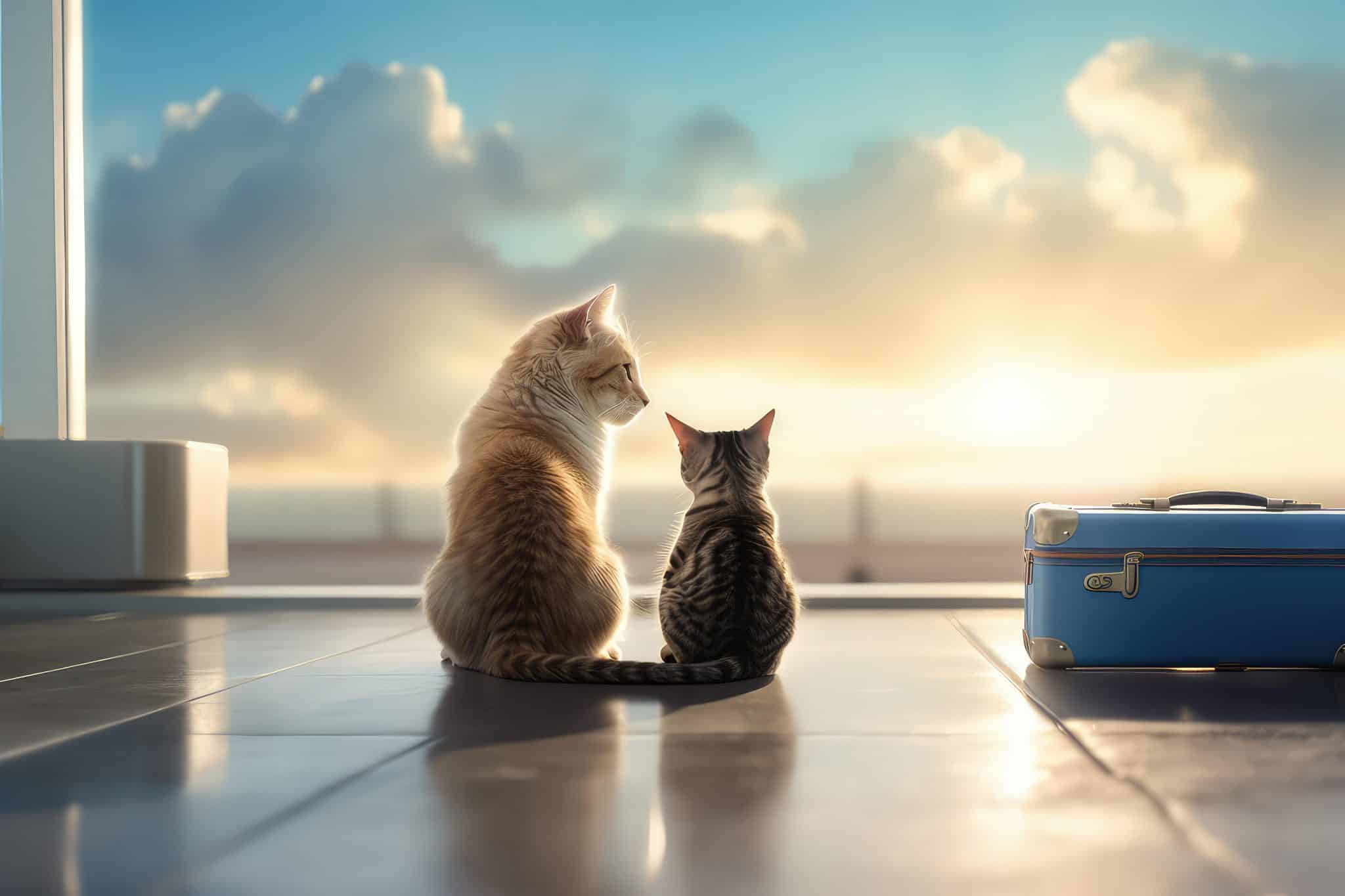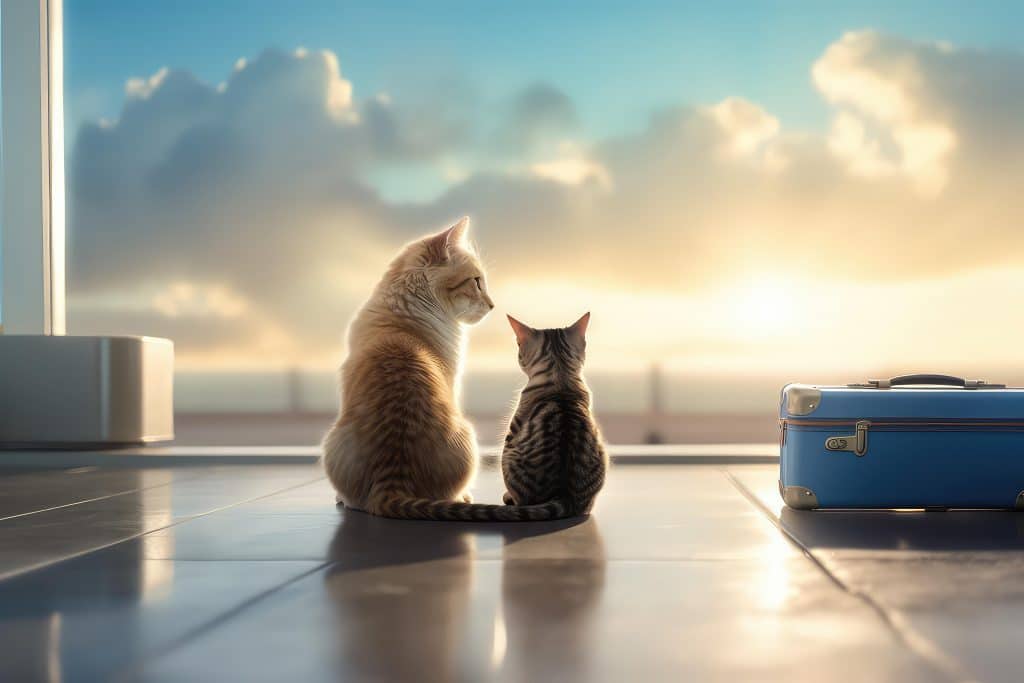 Is my pet allowed to travel to Europe?
Oddly enough, the first thing you need to determine is whether your pet is defined as a pet. Luckily, if your dog or cat is your private companion animal, it will be considered a pet.
That is an easy first step. What's next?
Check out the official requirements
Okay, your pet is really a pet. What does that mean for pet travel from the USA?
If you are moving to Europe with a dog or cat, you will need to obtain the relevant health checks and documentation for your pet.
Documentation must be issued by a United States Department of Agriculture (USDA) accredited veterinarian.
Once that is done, your pet's paperwork must be endorsed by the Animal and Plant Health Inspection Service (APHIS). This is part of the USDA. You can find your state's USDA office here.
If you have any questions about whether your pet is eligible for international travel, talk to the knowledgeable consultants at Pet-Express or contact your USDA office.
Talk to your local veterinarian and pet shipping agent
Check with your pet's vet to ensure they are accredited to provide the necessary veterinary certificate. If your local vet is not accredited, you will need to find a vet in your state or territory, who has the correct accreditation.
The vet and pet shipper are best placed to ensure that all your pet's travel requirements are met within the necessary time frames. From health checks to obtaining USDA endorsements, they will guide you every step of the way.
EU entry requirements for cats and dogs
If your pet is a cat or dog certain entry rules apply.
Micro-chipping
Your pet must have an approved 'transponder' (microchip) implanted. The microchip must comply with ISO Standard 11784.
The only exception is if your pet has a tattoo that was applied before 3 July 2011. The tattoo must be clearly readable. Your pet's rabies vaccination must have also been given after getting the tattoo.
If your pet is already microchipped but the chip doesn't meet the ISO standard, you will need to have it re-chipped.
If your pet needs to be microchipped, this must be done before getting its mandatory rabies vaccination.
Rabies vaccination
Your pet must be vaccinated against rabies with an approved rabies vaccine.
A few other conditions also apply.
Your pet must be at least 12 months old. Young animals cannot be vaccinated against rabies and won't be allowed entry.
At least 21 days must have lapsed from when the vaccine was administered before your pet can travel.
If your pet is routinely vaccinated for rabies, check when the booster is due. If the previous vaccine has expired a new 'primary' vaccine will be required and the 21 days waiting period will apply.
A certified copy of the vaccination details must be attached to the animal health certificate.
EU health certificate
You will need to have an EU animal health certificate. In EU-speak this is also referred to as the 'EU Annex IV'.
I have two dogs!
The certificate allows you to nominate up to five pets. This is called a 'non-commercial' certificate. The condition is that you must travel within five days of your pet.
Can't travel in the required time frame?
If you or another person you have designated as responsible for your pet, can't meet the five-day time frame, a 'commercial' certificate must be obtained. If required, discuss this option with the Pet-Express team or the USDA office.
What's in a health certificate?
This document has all your pet's health-related details. It will include information such as your pet's date of birth, breed, microchip number, the location of the microchip on your pet and rabies vaccination dates.
The 'non-commercial' international health certificate is valid for ten days. This period starts from when it is issued by the vet until the checks are made at the entry point in the EU. However, it remains valid for travel in the EU for up to four months from when it is issued.
Is the health certificate the same as a pet passport?
Even though the international health certificate is sometimes referred to as a pet passport, the two documents are different.
The certificate issued in the US prior to your pet's international travel is necessary for travel to most European countries.
EU pet passports on the other hand, are used for crossing borders between EU countries. The pet passport has essentially the same information as the health certificate, but it must be issued by an authorized EU veterinarian.
Your pet will need a pet passport to cross borders between different EU countries while living in Europe.
Let's look at an example
You are moving from the USA to Europe with a dog and you are going to live in France. Ooh la la!
Because France is in the EU, your canine companion needs a health certificate to enter France.
A year on, and you're off to sunny Spain on holiday with the dog in tow. By now, the health certificate has expired. But because Spain is also in the EU, your dog now needs an EU pet passport to enter.
Some non-EU countries in Europe, such as Gibraltar and the Vatican City state, also accept the EU pet passport.
The European pet passport is valid for life as long as rabies vaccinations remain current.
Pet border control
Each EU country has designated entry points for pets. This is where documentation and identity checks are made. Most countries' major airports are designated entry points.
Pet entry requirements of non-EU European countries
We've already stated that many non-EU country requirements are similar to those of the EU. Other countries may also require quarantine periods, additional vaccinations or treatments, or different documentation.
Here are just some examples of country-specific requirements.
Some countries, such as Norway and the United Kingdom, require that your dog be treated for the tapeworm, Echinococcus multilocularis. This treatment must be given one to five days before your pet is scheduled to arrive. Finland, Ireland and Malta, which are in the EU, also have this additional requirement.
The UK requires a UK pet health certificate. They don't recognize the EU certificate or pet passport.
Iceland has mandatory quarantine requirements, and you will have to wait four weeks before both you and your pet can be reunited. You must also obtain an import license from their Food and Veterinary Authority before arriving.
Expert advice from a pet shipping company experienced in European country laws is invaluable, and ensures relevant criteria are not overlooked. Mistakes can be costly and time consuming.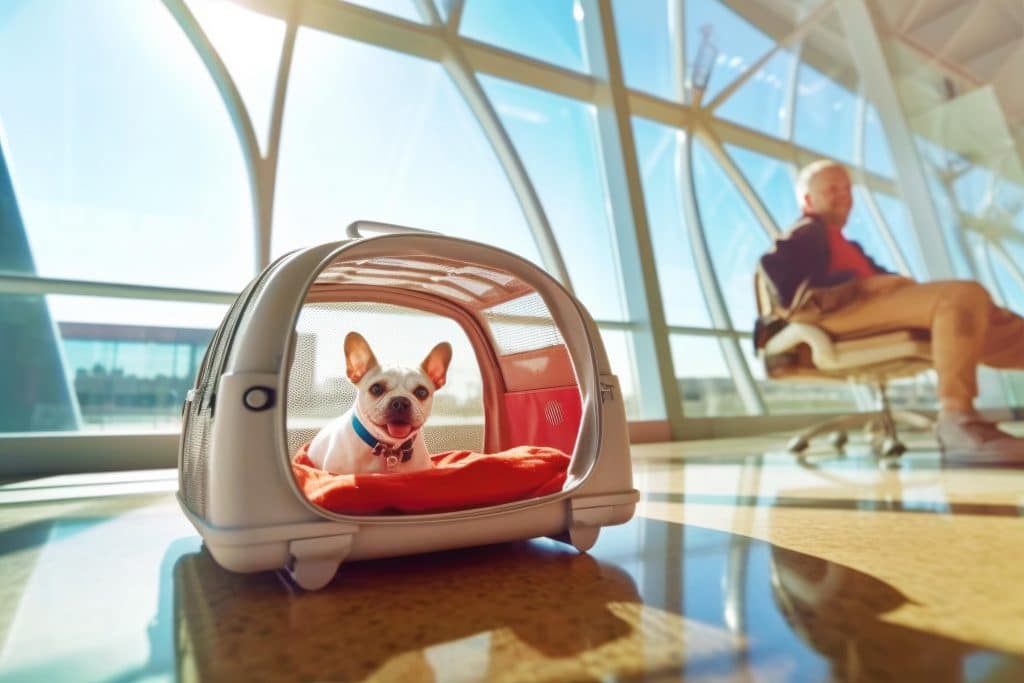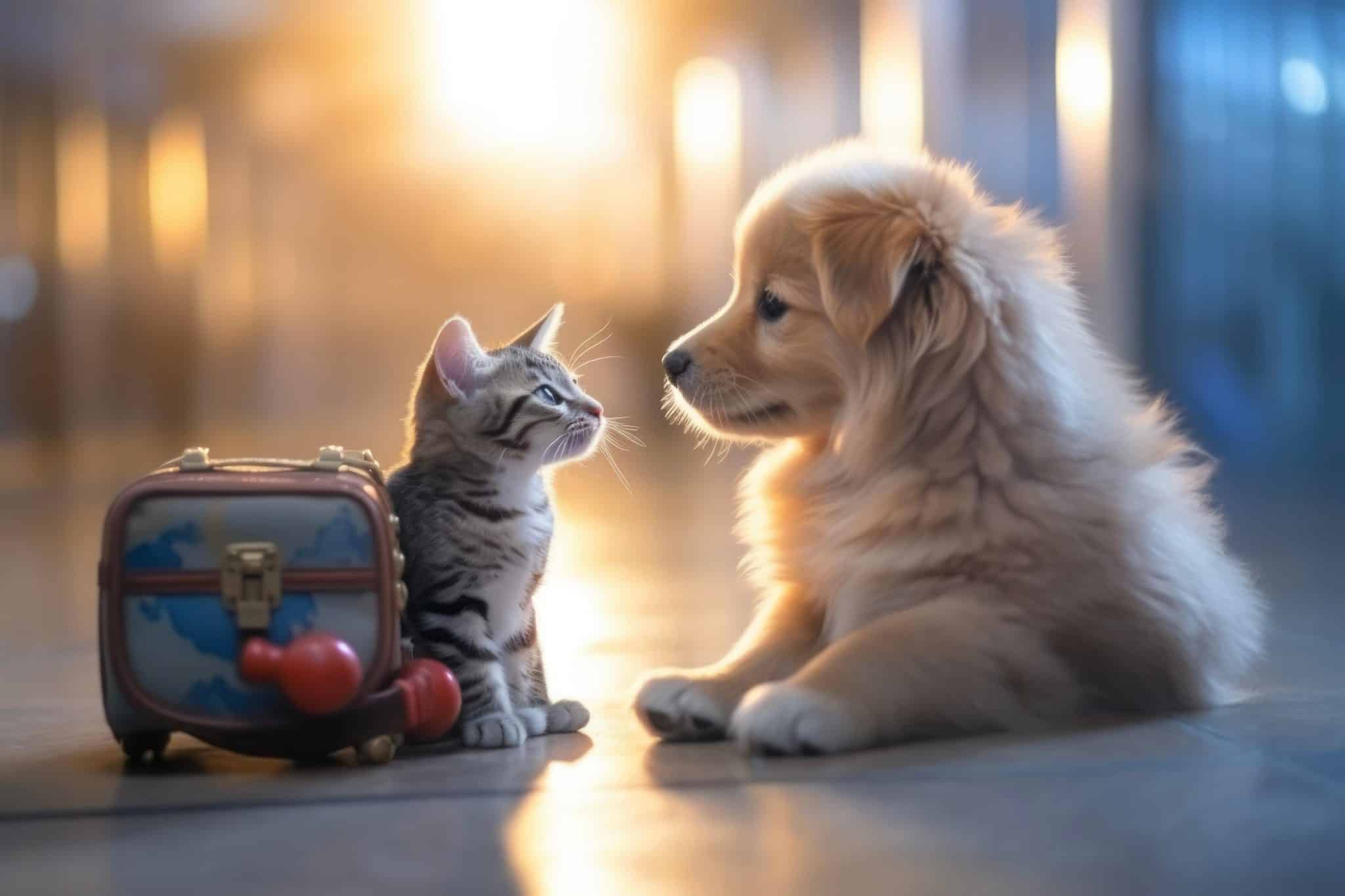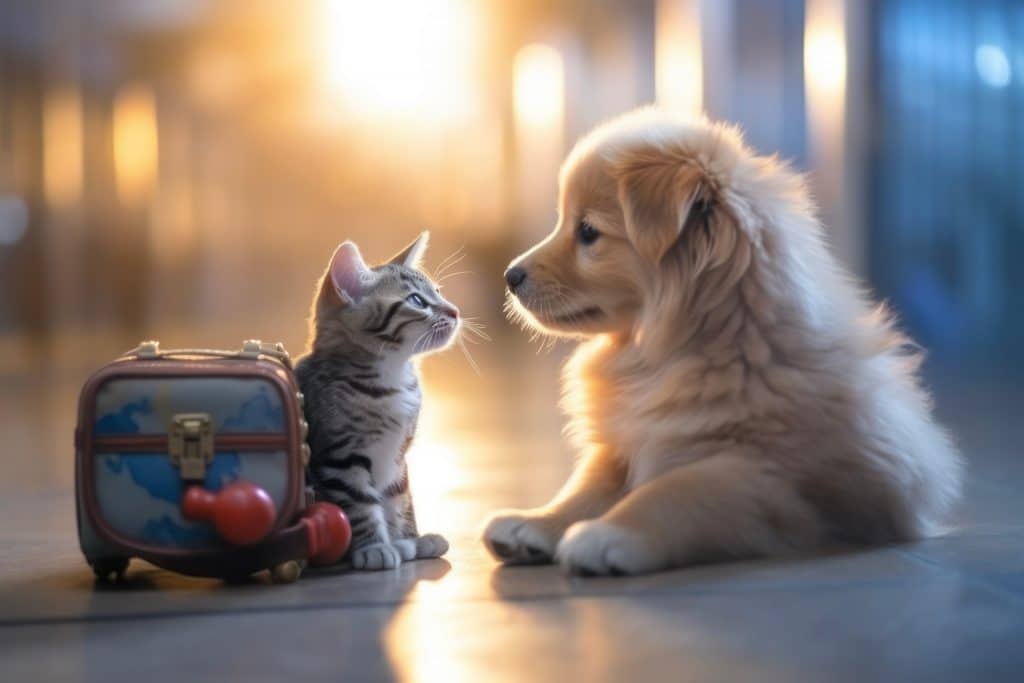 Other considerations
Transiting
Traveling to a non-EU country and transiting your pet through an EU country?
You will need a transit health certificate for the EU as well as the documentation for your destination country. The transit certificate is the same as your pet's EU health certificate.
General vaccinations
Apart from the mandatory rabies vaccinations, it is essential that your pet's other regular vaccinations are current. Some countries require cats to have the FVRCP vaccine and treatment for other feline diseases.
Check with your vet and pet shipping company. They will provide comprehensive advice on all your pet's travel and relocation needs.
Are all dog breeds welcome?
As in the US, some breeds of dogs are banned in Europe. The list varies from country to country, so always check to see if your dog's breed can be imported to your destination country.
Some breeds that are not welcome in many countries are:
Pit Bull Terrier including American Pit Bulls
Staffordshire Bull Terrier including American Staffordshire Bull Terriers
Argentine or Brazilian Mastiff
Tosa Inu
Rottweiler
Dobermann
Insurance
Despite the most careful planning, sometimes travel troubles occur — even for our pets. There may be flight cancellations, or your pet could get sick during travel. Taking out pet travel insurance is recommended in the event something unforeseen takes place. This gives you the reassurance that your pet and your pocket will be protected.
Overwhelmed? Call the experts!
With all that is involved in relocating to a new country, arranging pet travel might seem burdensome.
Sure, there is a lot involved, but what seems insurmountable to you is routine for Pet-Express. We can manage the entire process for you. And what's more, we have contingencies in place for when things don't go according to plan.
If a move to Europe with a dog or cat is on your horizon, talk to us. One of our experienced consultants will be happy to help.
Get a pet travel quote