Dog Boarding Los Angeles
Embarking on a Los Angeles Getaway?
So, you've booked the trip of a lifetime. Will you be whipping down pristine slopes? Dipping your toes into turquoise waters? Watching a purple and tangerine sunset as your waiter delivers a glass of wine and announces you'll arrive in Santa Monica by 11 am? Or maybe you'll be frolicking with penguins in the Antarctic?
Well, while you're off enjoying your hard-earned holiday, your furry friend deserves a vacation too!
Don't go trudging through the endless number of dog hotels available to find one that might fit; with us by your side, pet boarding in Los Angeles has never been easier.
Got an early morning take-off or a midnight landing? No worries – we've got your pup's itinerary covered. As the closest luxury pet resort near LAX, you won't find a more convenient or lavish spot for your beloved pooch.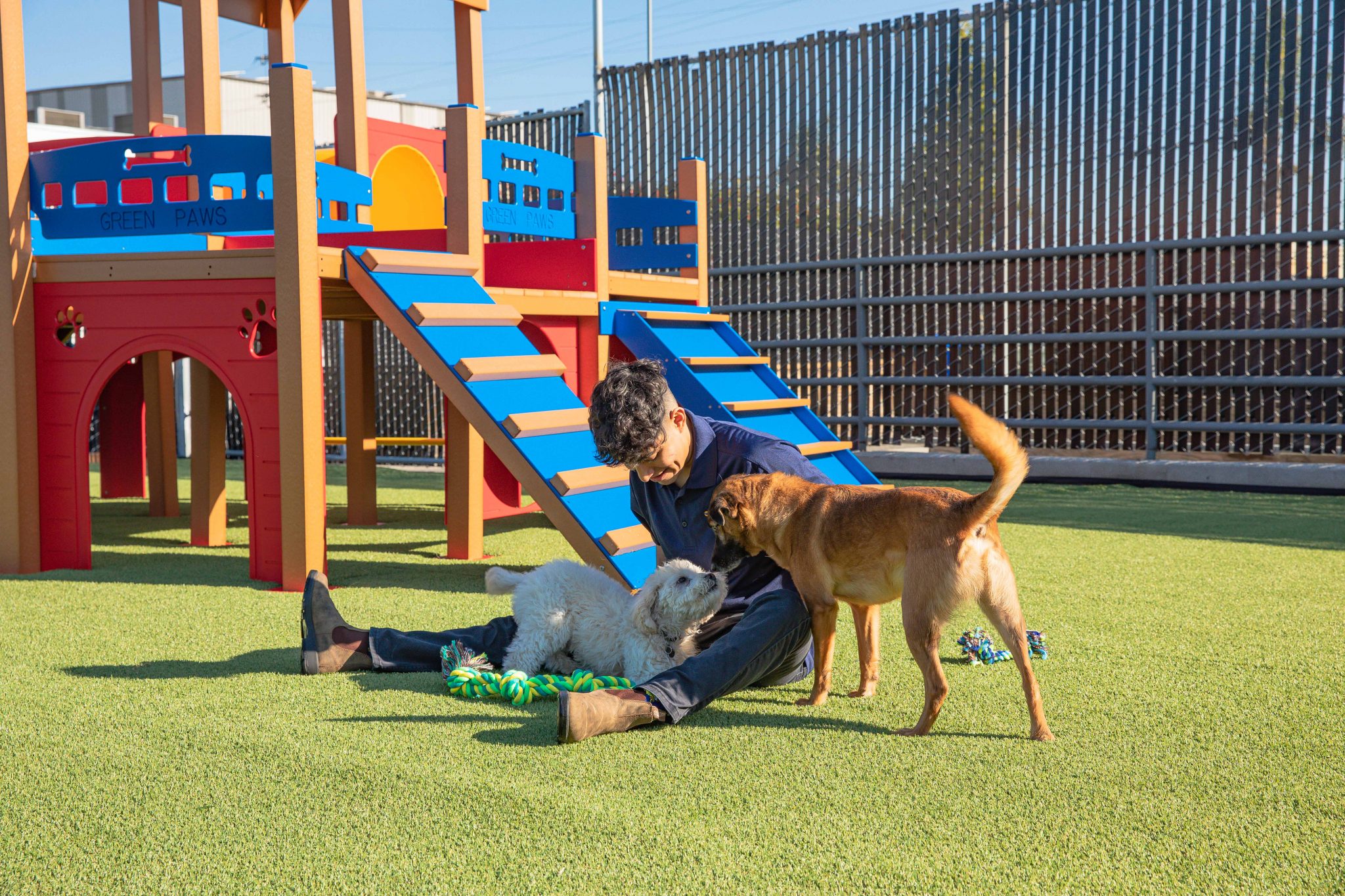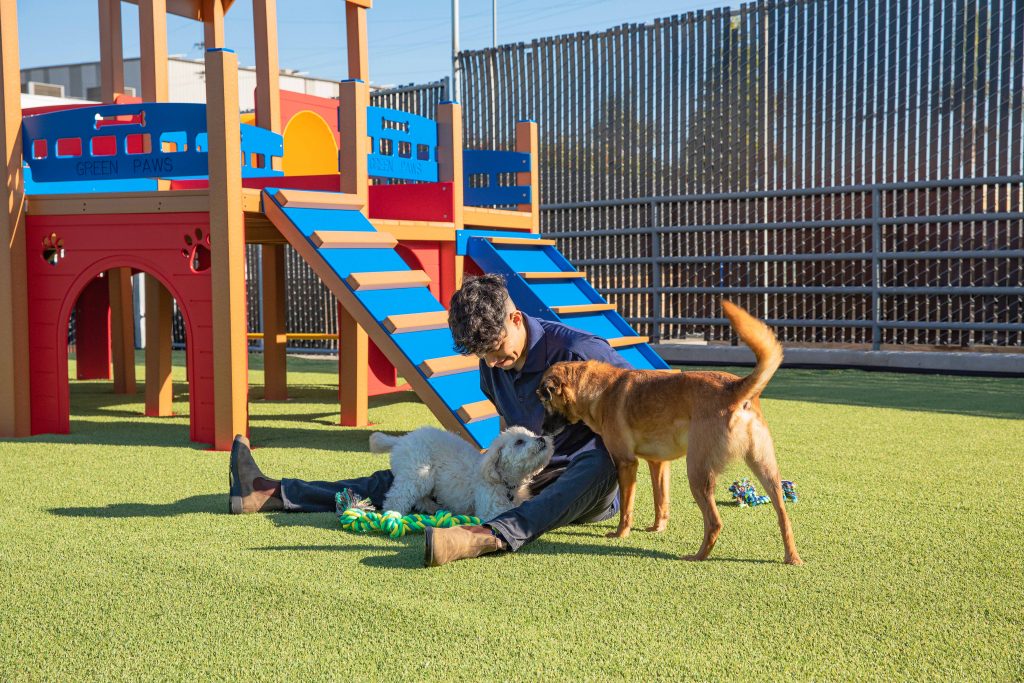 When you think of the best pet boarding facilities, think Pet Express. Your cherished canine will wag their tail in gratitude as they experience the crème de la crème of our Los Angeles pet boarding services. With our first-class attentiveness to your furry friend, their staycation at our dog boarding facility is bound to be a memorable one.
Our doggie daycare services team consists of dedicated pet handlers – professionals who aren't just there for a paycheck, but genuinely love every tug-o-war, fetch session, and game of hide the treat. If relaxation is more your pet's style, they can indulge in unlimited lap time and cuddles. And as for napping? Your pooch can do it all day, if they wish.
They'll rest in our luxurious dog hotel suites, designed to keep in mind your wishes as a dog owner. Your pup will curl up on a twin-size bed, furnished with plush linen sheets, in our climate-controlled, resort-style rooms. You can expect daily photo-filled updates showcasing the joyous adventures your doggie is having at our luxurious Los Angeles pet daycare.
Wondering about meals? We have in-room dining, complete with delectable meals served in elevated feeding bowls. However, should you prefer a touch of home, you're more than welcome to bring your pooch's favourite treats and a beloved blanket they can snuggle into.
Every day, your pet will revel in supervised interactions with their new four-legged pals in one of our two cutting-edge adventure playgrounds. After such exhilarating fun, they might just throw you a pleading look when it's time to leave!
For those pets with a taste for finer things, imagine a Kong filled with creamy peanut butter or their favourite treats. For the more laid-back, a flatscreen TV with Netflix in their room would ensure they're entertained.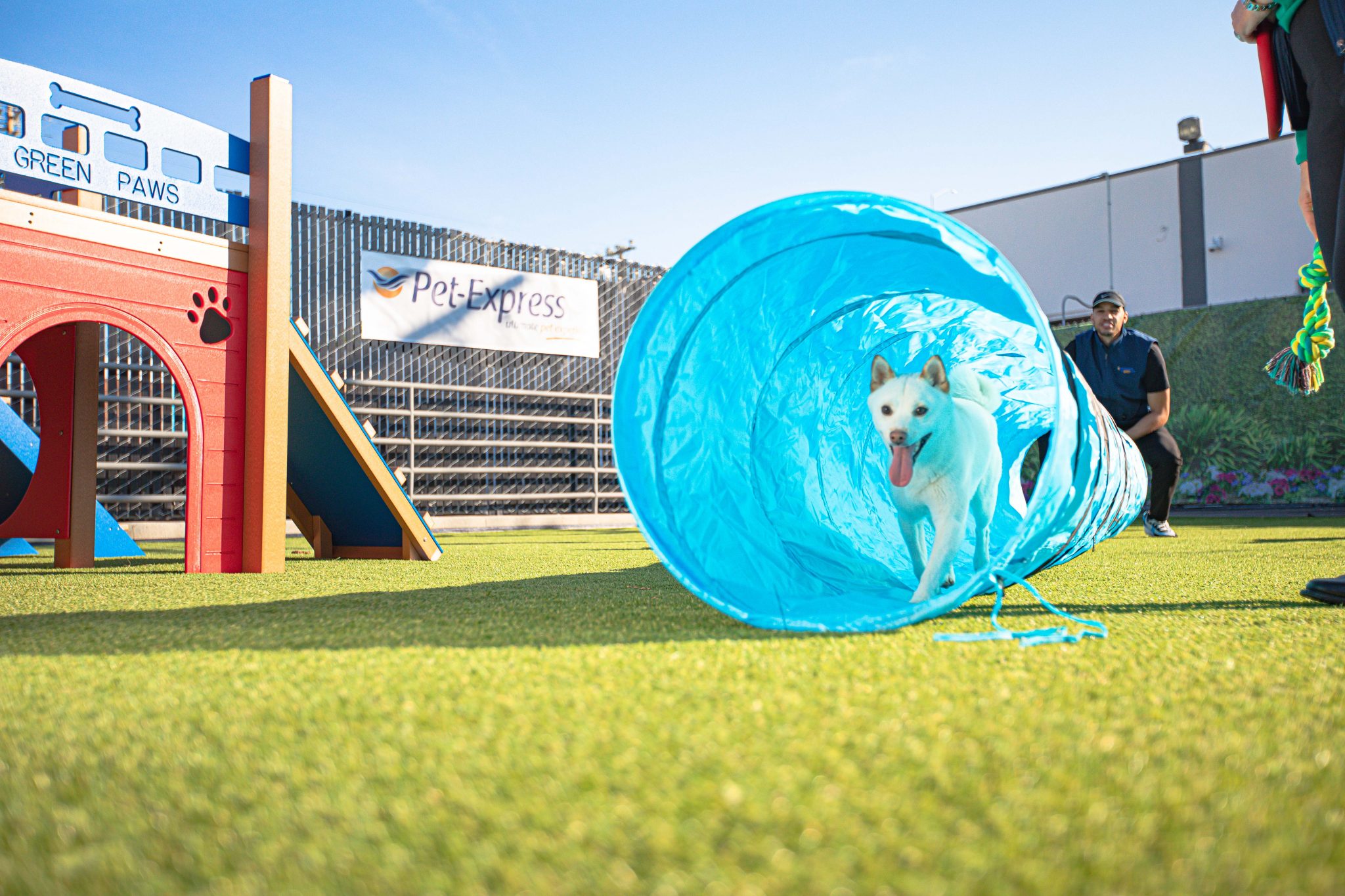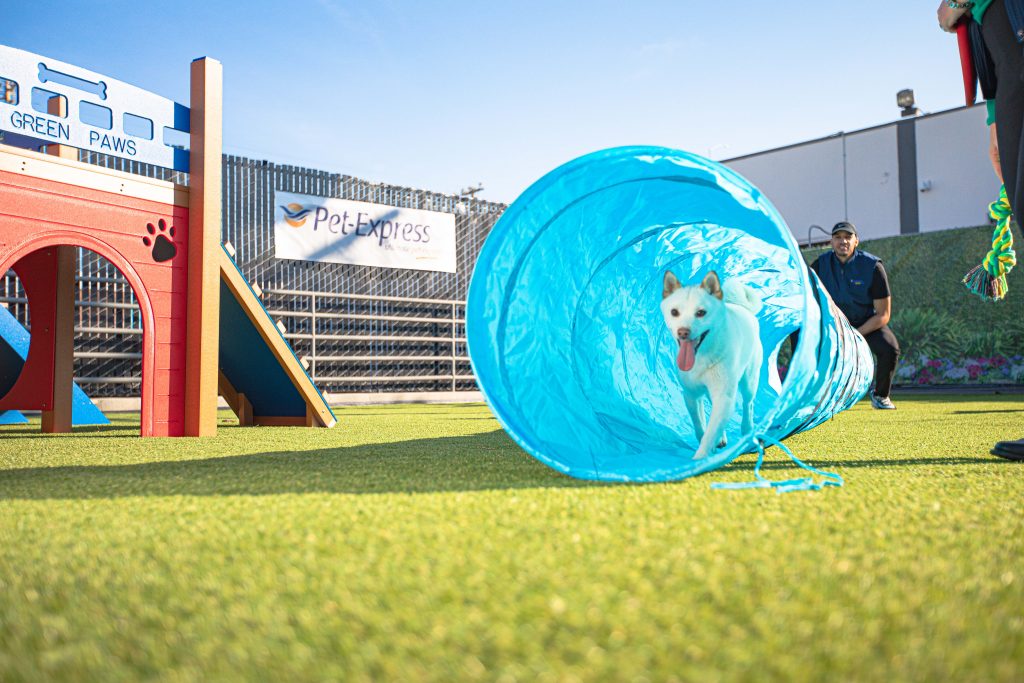 Concerned about medications? Trust in our trained staff to administer them exactly as needed.
Cuddles, kisses, and hugs every night? Yes, please.
While you're at the spa, treat your four-legged darling to one as well. With washes, fluffs, and even a paw-dicure, we offer separate additional spa treatments to pamper your pooch as much as possible.
Remember, Pet Express isn't just another dog boarding kennel in Los Angeles. We're a family-owned enterprise and passionate dog owners ourselves. Entrusting your pup with us means they become a part of our extended family. We'll love your baby like they're our own.
Experience peace on your vacation, knowing your pet is cherished and having the time of their life.
Want to see for yourself? Schedule a tour of our world-class Los Angeles pet hotel, a stone's throw from LAX. It's a wonderful way for your dog to familiarise themselves and know that you'll be back to fetch them.
Reach out to our fantastic Pet Express team at 866-738-6683. Our dog daycare service has it all, and we eagerly await to meet both you and your prized pooch!
Happy travels and tail wags!
Get a pet travel quote