Testimonials
See what our friends say about us on

Facebook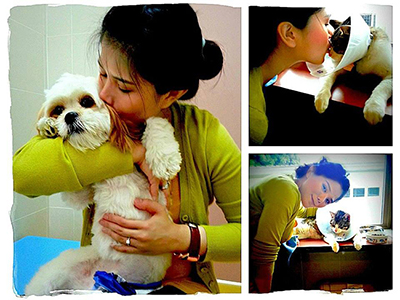 Taz the DOG from Washington DC to Melbourne, Australia
We write with pleasure regarding Pet-Express, particularly referring to Mark Botten. Our family arrived in Washington DC in June 05, with a 12 month posting, representing the Australian Defence Force. Due to the brevity of our stay, we made the decision as a family to house our two boxer dogs at our Veterinary Hospital in Adelaide as "Clinic Dogs"- this was a tough decision for all of us, but we knew they would be well taken care of and loved. Although we were missing our pets, we made it until around Mid August when the void in our hearts surfaced. Pet adoption was considered and enquiries were made about "Katrina rescue dogs." Without a particular breed in mind to adopt, Lyndal contacted Mark Botten at Pet-Express with the idea. Right from the initial inquiry, Mark was extremely helpful and knowledgeable about Pet transport. Additionally, because Mark is a "fellow Aussie", there was a warm sense of understanding. He mentioned that the size of the pet affected the costing, along with explaining the process from start to finish. Mark was honest and alleviated our concerns about the perceived "risks". Even in the embryonic stages of business with Pet-Express, there was a sense of professionalism and diligence. Eventually, our family was chosen by a delightful adult rescue dog - amazingly, already tagged with the name "Taz". Immediately, we contacted Mark with news of our small "new addition". Mark re-affirmed our responsibilities in getting our baby home to Australia. In the preparatory stage, Mark liaised with our Vet and partnered us through the administrative details. It was consistently emphasized by Mark that Taz was an important part of our family and not an object to export. This kind of approach worked extremely well and we always felt we were getting the "real picture" with Mark and his team. Although, putting our pet in the hands of strangers involved in Air Cargo was stressing at times, Mark made himself available to us, reassured us and helped us ensure that theT's were crossed and the I's dotted. This made the experience run smoothly and efficiently. Taz traveled from DC to San Francisco and was homed overnight at Pet-Express. Mark personalized the service further by making a sterling effort to get to know Taz and discovered instinctively what made him tick. Taz responded very well to Mark and we were totally delighted to know that he was in very safe hands. The next stage of the journey for Taz was the overseas flight. Taz traveled well and landed in Melbourne, arriving at AQIS in Spotswood in great health. We had a friend visit Taz immediately and he was able to take photos. I could see instantly that he was happy, healthy and in good hands. I'm sure Mark's excellent communication with the Melbourne AQIS team smoothed the path for a happy ending. In summary, we have found Mark and the Pet-Express team to be professional, accessible, caring, knowledgeable, "switched on", "hands on" and delightful to do business with. We would not have any hesitation in recommending Mark Botten and Pet-Express USA.
Sam and Cali the DOG from San Francisco to Boston
Thanks for taking such good care of our retrievers, Sam and Cali, during our recent cross-country move. The manner in which you picked up the dogs reassured us that they were not only in competent but loving hands. Prior to meeting you, we had been very concerned about their cross-country journey. But the way you explained coordination of flight times with weather conditions, recommended kennel sizes and even loved toys and blankets for the kennel quickly reassured us that our dogs were with experienced, caring professionals. At a very stressful time for us, you couldn't have made it emotionally or physically easier. We are extremely grateful and will use your service for our future moves!
Mouse and Bean the CAT from San Francisco to Sydney
Regarding my cats' journey to Australia, many thanks for all your help with this. It's such a pleasure to deal with professionals and good to know my girls are in such good hands. Can I just say what a pleasure it has been to deal with a company so professional and helpful as yours.
Sophia and Mopsy the DOG from San Francisco to New Jersey
Janice and the others at Pet-Express are simply the best! When we called two years ago about having our 120-pound Neapolitan Mastiff and our 11-pound Shih Tsu flown from San Francisco to New Jersey for the summer, I thought it might be a real challenge. Instead, Pet-Express quickly provided information on airline schedules, pick-up arrangements, boarding at the New Jersey end, costs, and even arrangements for the trip home after our vacation. Janice is a true professional who was completely up to date with the myriad of federal and state transportation regulations. We were even able to purchase (at a lower cost than from our local pet supply) a giant kennel for Sophia! Every representative of Pet-Express has displayed a love and respect for our animals and are clearly very knowledgeable and experienced animal handlers. Janice and Pet-Express worked around our needs for the past two years. We will continue to use Pet-Express for all our pet transportation needs and will always be assured of the best possible service, price and professionalism for our dogs.
Ziggy the Miniature Schnauzer from San Francisco to Sydney
" Hello Mark,
I just wanted to say a big thank you to you, Janice, and the rest of your staff for taking such good care of Ziggy (and us) during such a difficult time.
When you explained to us that a discrepancy had been found on his permit application at the last minute and could not fly out until the matter could be resolved, we were terribly upset. From that time, you and your staff went out of your way to not only keep us informed of the status of our case, but every time we called to check on him, we felt completely reassured that our little guy was being well cared for by your staff. I can't tell you how much easier it was for us knowing that he was in such good hands. I truly don't know what would have happened if we had not used your services, as we were unreachable when the problem was found.
Two months on, we have picked Ziggy up from quarantine, and he's the same happy little dog he always has been and is loving his new house and big yard.
Again, thank you so much for making our stressful time easier -- knowing that the people on your staff truly care about the animals in your charge gave us the peace of mind we needed so far away. My husband and I would not hesitate to recommend your services to anyone shipping a pet overseas.