Testimonials
See what our friends say about us on

Facebook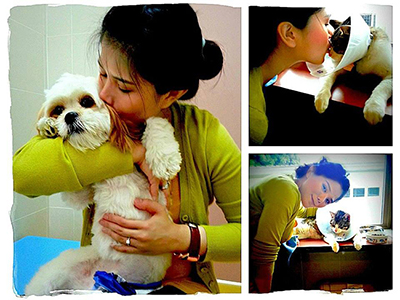 Sophia and Mopsy the DOG from San Francisco to New Jersey
Janice and the others at Pet-Express are simply the best! When we called two years ago about having our 120-pound Neapolitan Mastiff and our 11-pound Shih Tsu flown from San Francisco to New Jersey for the summer, I thought it might be a real challenge. Instead, Pet-Express quickly provided information on airline schedules, pick-up arrangements, boarding at the New Jersey end, costs, and even arrangements for the trip home after our vacation. Janice is a true professional who was completely up to date with the myriad of federal and state transportation regulations. We were even able to purchase (at a lower cost than from our local pet supply) a giant kennel for Sophia! Every representative of Pet-Express has displayed a love and respect for our animals and are clearly very knowledgeable and experienced animal handlers. Janice and Pet-Express worked around our needs for the past two years. We will continue to use Pet-Express for all our pet transportation needs and will always be assured of the best possible service, price and professionalism for our dogs.
Ziggy the Miniature Schnauzer from San Francisco to Sydney
" Hello Mark,
I just wanted to say a big thank you to you, Janice, and the rest of your staff for taking such good care of Ziggy (and us) during such a difficult time.
When you explained to us that a discrepancy had been found on his permit application at the last minute and could not fly out until the matter could be resolved, we were terribly upset. From that time, you and your staff went out of your way to not only keep us informed of the status of our case, but every time we called to check on him, we felt completely reassured that our little guy was being well cared for by your staff. I can't tell you how much easier it was for us knowing that he was in such good hands. I truly don't know what would have happened if we had not used your services, as we were unreachable when the problem was found.
Two months on, we have picked Ziggy up from quarantine, and he's the same happy little dog he always has been and is loving his new house and big yard.
Again, thank you so much for making our stressful time easier -- knowing that the people on your staff truly care about the animals in your charge gave us the peace of mind we needed so far away. My husband and I would not hesitate to recommend your services to anyone shipping a pet overseas.