Relocating your pet can make some pet-parents feel a little anxious.
Your pet's welfare is in good hands, as it's safety means everything to Pet-Express.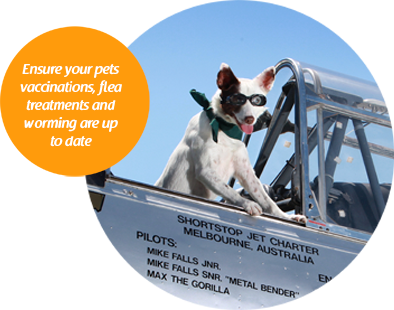 You can be assured that Pet-Express is here to alleviate any concerns by way of a thorough, transparent and organized approach to relocating your  pet.
Contrary to some concerns, when pets fly they do not travel in freezing or pitch black conditions, nor are they mixed in with the baggage and general cargo.
Pets travel in a cargo-compartment that is dedicated to pet transport that is pressurized and dimly lit so that your furry kids can see what is happening around them.
The captain of the aircraft will set the temperature to between approximately 65-75 deg F (18-23 deg C) to ensure that pets travel comfortably.
What we humans experience in the passenger cabin of the plane is similar to what your pets experience.
Travel advice that will help you prepare your pets for their move:
Do not sedate your pet unless you have discussed this with your Pet Relocation Specialist.
The American Veterinary Medical Association discourages sedatives for animals that will travel at altitude.  Veterinary studies have shown that impacts of sedatives at altitude can include impacts on heart-rate and blood pressure as well as dehydration, disorientation and travel sickness.  If required, sedatives must be administered by a veterinarian, and may require a disclaimer for travel.
Try to help your pet become accustomed to its travel crate before travel.  If your pet only sees the crate when it's time to visit the vet – your pet probably hates the crate already!  Setup the crate in the living room, without the door attached, and with bedding & treats inside.  Don't force your pet into the crate, but instead provide positive reinforcement and rewards when your pet ventures inside.  Don't lock it inside during the early days of acclamation.   Your pet may need many weeks or months to become comfortable with its crate, however it's worth the effort.  Correct crate acclamation will help your pet to relax and negate a need for sedatives.
Include a blanket, toy or something your pet is familiar with in the travel crate with your pet.  Include an article of clothing that you have been wearing, so that you pet is reminded of you during its trip.
Do not feed your pet a full meal within eight hours prior to the flight as this may cause an upset stomach (a light treat is okay).  Allow time for adequate "potty break" before your pet goes into its crate.
Take your pet for a walk or let your pet stretch its legs before they go into the travel crate.
Ensure your pet drinks plenty of water and is well hydrated.
Ensure your pets vaccinations and parasite treatments are up to date.
Please also refer to our Commonly asked Questions